Wir freuen uns immer über Nachrichten und Bilder von unserem Nachwuchs im neuen Zuhause!
We are always glad to hear about our offspring in their new home, we appreciate pictures very much!
---
Ein Inhaltsverzeichnis unserer Rubrik "Familienhunde" finden Sie am Ende dieser Seite
---
Maxie = Unique Lady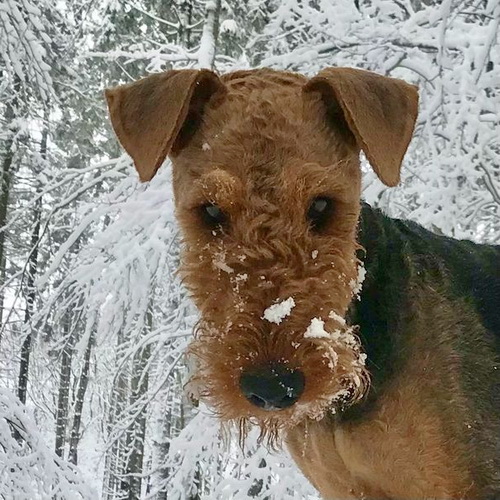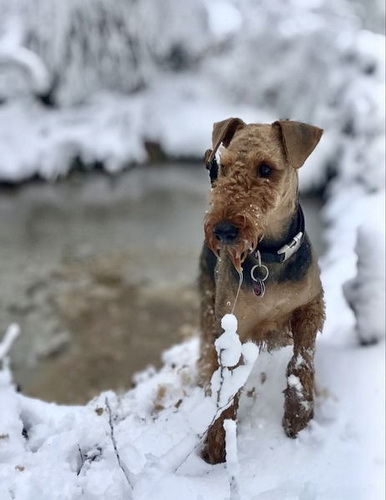 ---
Vitus = Voluntary Soul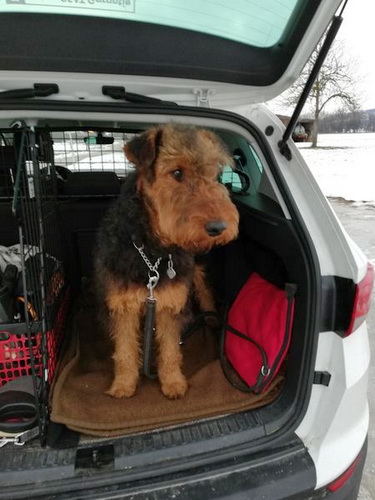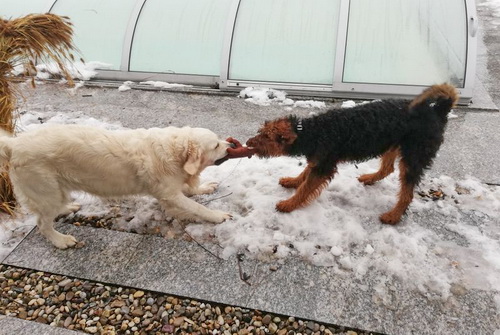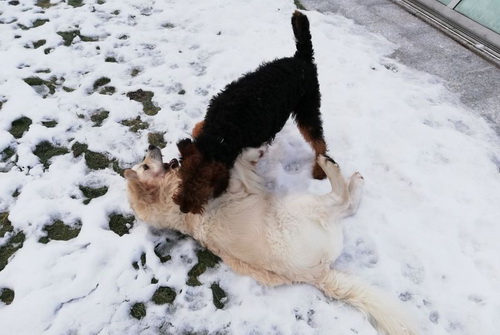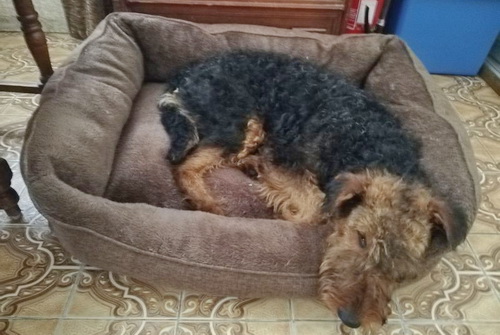 "Wir haben Freude am Schnee und an der Kälte und hinterher ist ein ausführlicher Schlaf notwendig..."
---
Lilly = Queen of Diamonds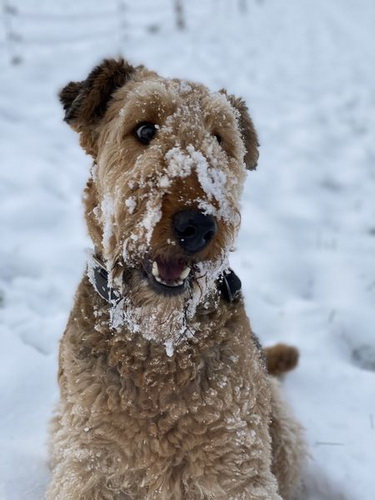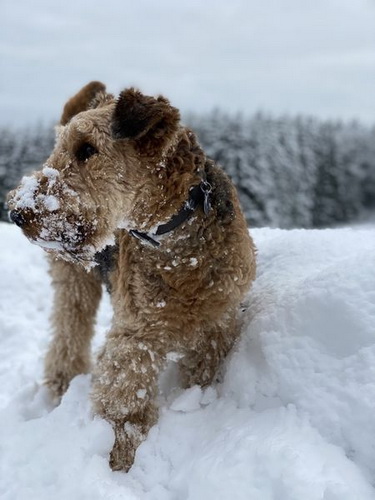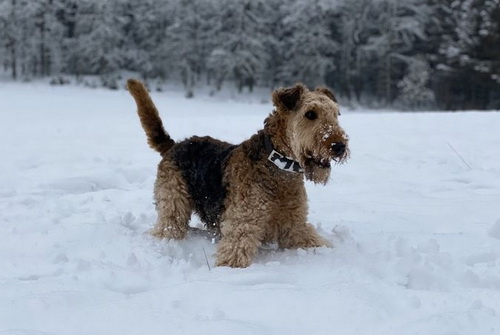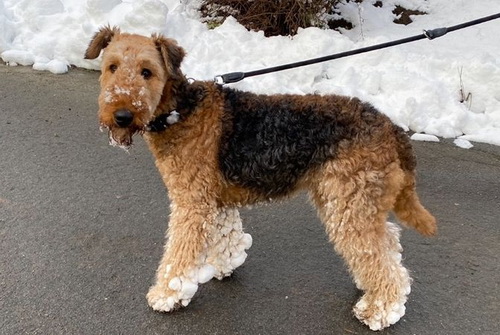 "Lilly rennt den Schneebällen hinterher, und Schneemannbauen klappt nicht, da sie immer wieder die Kugeln aufkratzt und reinbeißt ... Schneebälle an den Füßen sind ihr neuestes Accessoire..."
---
Hurricane und Umbra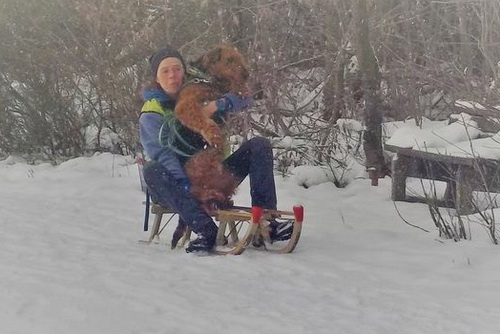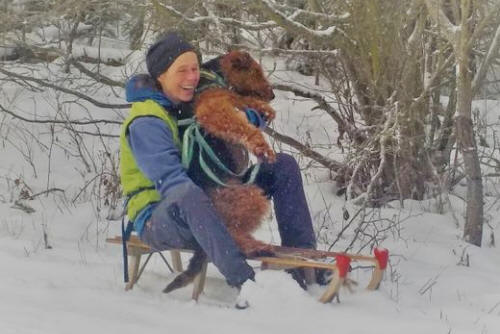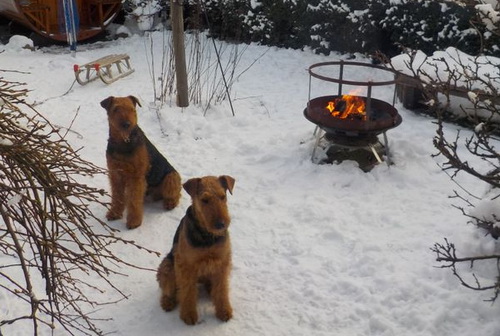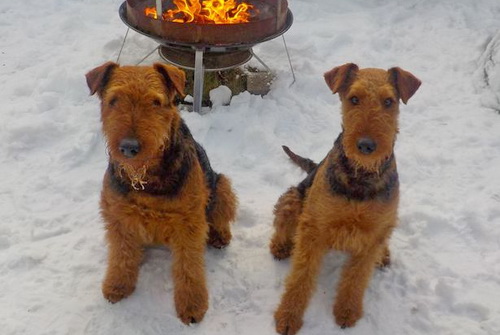 ---
Samson = Next Big Time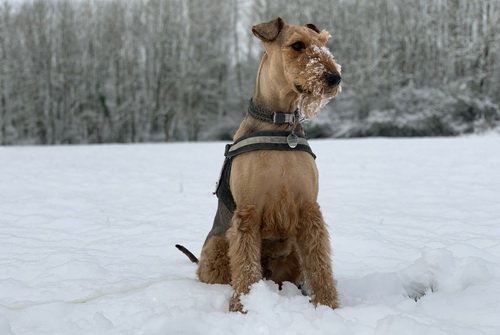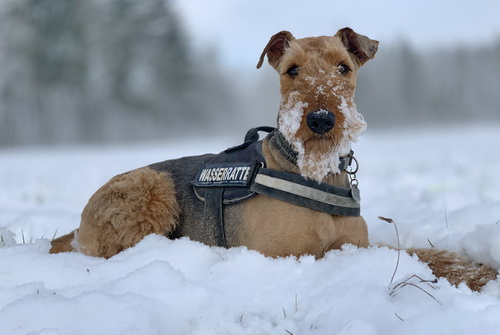 ---
Hurricane und Umbra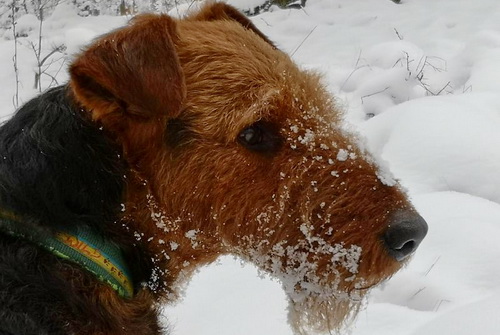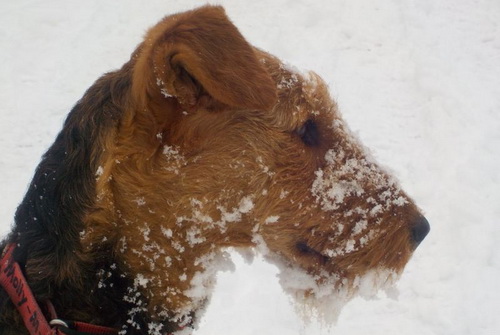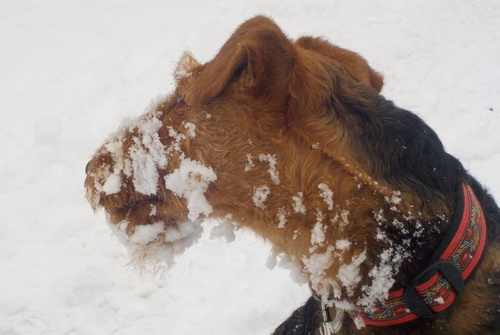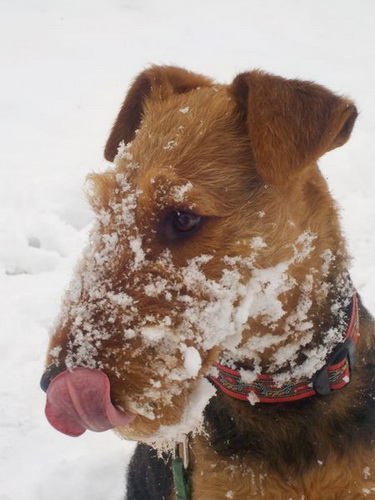 ---
Quiet der Racker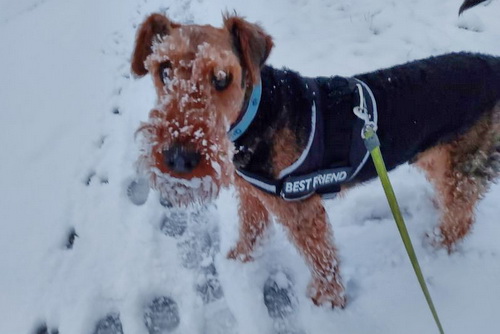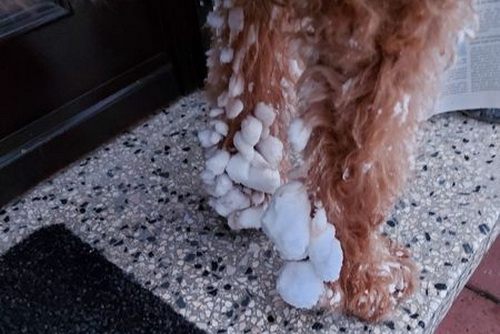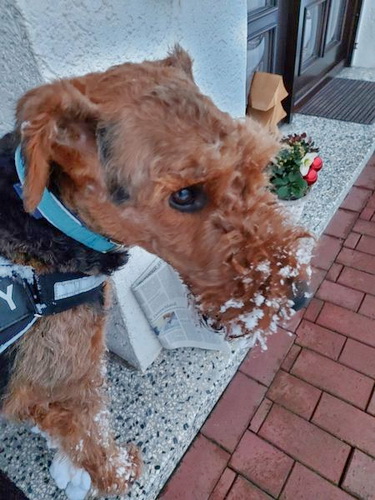 ---
Joker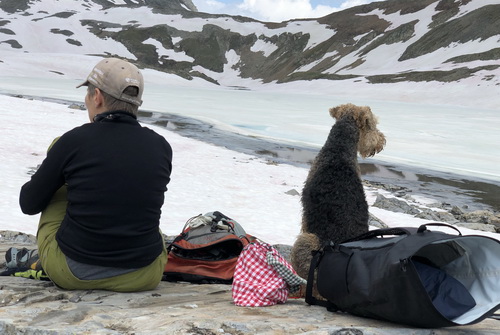 ---
Einzelne Hunde haben eigene Seiten:
| | |
| --- | --- |
| Anton = East Wind hier | Atty = Young Duke's Attitude of Mind hier |
| Atty in Dänemark hier | Birko = Best Bet Yet hier |
| Bruno = Hell's Angel hier | Crazy = Cowboy and Gentleman hier |
| Felix = Faithful Nature hier | Filou = Fighting Spirit hier |
| Flo = Blue Moon Rhapsody hier | Harry = Half the Battle hier |
| Hummel = Spice of Life hier | Hurri = No Speed Limit hier |
| Iron = Iron Sentinel hier | Luzie = Up She Goes hier |
| Max = Yankee Doodle hier | Merlin = Avalon's Hero hier |
| Neele = Trinket hier | Tilda = Hoist The Flag hier |
| Winnie = Winner Takes All hier | Yani = Yearn for Sunshine hier |
| Yukon = Yet to Yield An Inch hier | Ziggy = Zodiak Skyklight hier |
| Zora = Zounds of Indignation hier | |
Inhaltsverzeichnis:
Familienhunde 1: Zala, Kenzo, Sandy, Ghana, Lionn, Enya, Finn und Jaska, Loriot, Max, Sandy, Lotti, XPorthos, Pluto, Ghana, Buddy, Ben, Luzie, Yanny, Cleo, Kira, Sissy und Orry, Cato, Sina, Reachy, Vote of Confidence, Dorian Grey, Raudi, Sam, Felix, Quincy, Twiggy
Familienhunde 2: Flo, Nugget, Joya, Finn, Crazy, Double Agent, Twiggy, Trine, Buddy, Olli, Sandy, Luca, Dave, Drunky, Enya, Yanni, Lotti, Birko, XPorthos, Max, Charly, Orry, Olli und Lina, Lady, Lucky, Vote of Confidence und Stanley, Brisko, Zala, Amy, Ghana, Fee
Familienhunde 3: Linus/Clancy, Tessa, XPorthos, Elvis, Charly, Dede und Mats, Amy, Buddy (C), Handsome Harry, Flora, Eddy, Ginger, Bruno, Holly, Lotti, Anton, Tilda, Felix, Finn, Atty, Cira und Max, Luzie, Nugget, Pluto, Filou, Final Countdown, Buddy (N), Falco, Frieda, Luca, Fee, Crazy, Merlin, Yanny, Didi und Bond, Ghana, Max, Double Agent, Sandy, Lesco, Ben
Familienhunde 4: Spike, Lotti, Flora, Striker, Amy, Finni, Finn, Dede und Mats, Henry, Flora, Clancy, Elvis, Cira und Max, X-Porthos, Charly, Morty, Lucky, Drunky, noch ein Lucky, Nugget, Striker, Ginger, Nina, Joker, Elvis, Pluto, Candy, Frieda, Kira, Enya, Buddy, Felix, Keep the Ball Rolling, Ivy, Paul, Gustav
Familienhunde 5: im neuen Zuhause - die K's, die L's, die M's
Familienhunde 6: Ferry, Joker, Money, Samson, Lotti, Mette, Atty, Flo, Kami, Ivy, Perfect Picture, Finn, Lily, Ryan, Cira und Max, Striker, Nugget, Sabrina und Filou, Tasso, Nina, Max, Ghana, Mats oder Dede, Otto, Lenny und Nero, Let Your Hair Down und Now It's My Moment, Elvis, Coco und Sky
Familienhunde 7: Patouche, Fynn, Finn, Brisko, Flo, Nina, Samson, Buddy, Ivy, Frieda, Otto, Ferry, Coco und Sky, Lotti, Winston, Mette, Pina, Nelson
Familienhunde 8: die Q's im neuen Zuhause
Familienhunde 9: Lilly, Erna, Fynn, Quite, Rank And File, Striker, Glen, Daisy, Samson, Patouche, Joker, Tasso, Money
Familienhunde 10: Quite, Lilly, Quiet, Su, Fynn, Silas, Erna, Finn, Daisy, Scarlett, Rufus, Scarlet Sundown
Familienhunde 11: Su und No, Quiet der Racker, Silas, Quite, Kenzo, Bingley, Glen,Lilly, Erna, Neele, Let Your Hair Down und Now It's My Moment, Solomon, Scalli
Familienhunde 12: Weihnachts- und Neujahrsgrüße 2018
Familienhunde 13: Su, Mette, Quiet, Silas, Rufus, Lilly, Quincy, Glen, Tasso, Bingly
Familienhunde 14: die T's im neuen Zuhause
Familienhunde 15: die T's und Lilly, Holly und Scarlett, Patouche, Flora, Emil
Familienhunde 16: Joker, Tony, Emil, Su, Quiet, Capper, Rank, Quite A Reputation, Glen, Silas, Lilly, Charlotte, Tango
Familienhunde 17: Su, Emil, Quiet, Muck, Capper, Tony, Ferry, Weihnachts- und Neujahrsgrüße 2019 von Glen, Silas, Mette, Emma, Capper, Bingley, Pina, Leni und Nele, Liz, Tati, X-Porthos, Kami, Coco und Sky, Flo, Zora
Familienhunde 18: die U's im neuen Zuhause, Molly, Quiet der Racker, Erna, Tony, Molly
Familienhunde 19: Quiet der Racker, Freddy, Molly, Tony (Two Tone Teddy), Lilly, Emil, Bruno, Capper, Lotte, Su, Tony (The One and Only), Nele, Ferry, Mette
Familienhunde 20: Emil, Lieske, Erna, Quiet, Umbra, Bruno, Santos, Lilly, Rori, Tony (Two Tone Teddy), Freddy, Capper, Molly, Lotte und Lisa
Familienhunde 21: die V's im neuen Zuhause, Gana und Filou, Freddy, Maxie, Quiet, Emil, Zora, Molly, Lilly, Tony (Two Tone Teddy), Bruno, Lotte, Su
Familienhunde 22: Willa, Gana, Vitus, Su, Molly, Umbra, Nevada, Vivi, Freddy, Vehement Character, Lilly, Quiet der Racker, Maxie, Weihnachts- und Neujahrsgrüße 2020/2021