Wir freuen uns immer über Nachrichten und Bilder von unserem Nachwuchs im neuen Zuhause!
We are always glad to hear about our offspring in their new home, we appreciate pictures very much!
---
Ein Inhaltsverzeichnis unserer Rubrik "Familienhunde" finden Sie am Ende dieser Seite
---
Glen = Quantum of Energy liebt den Schnee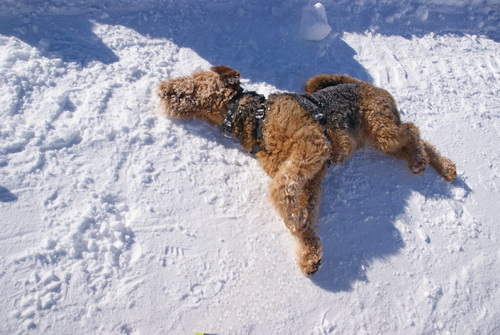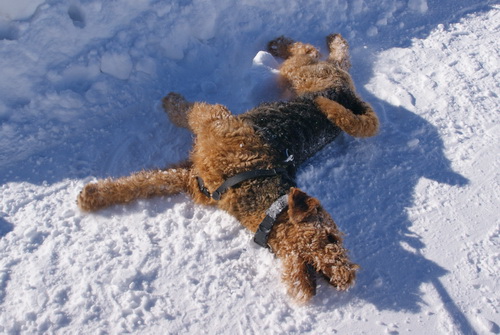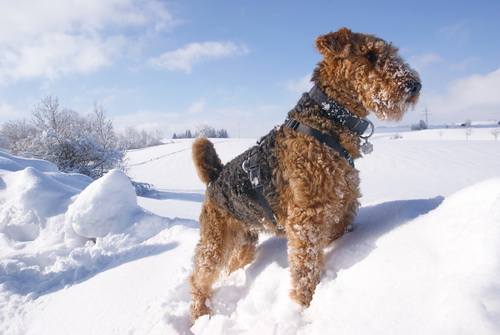 ---
Neele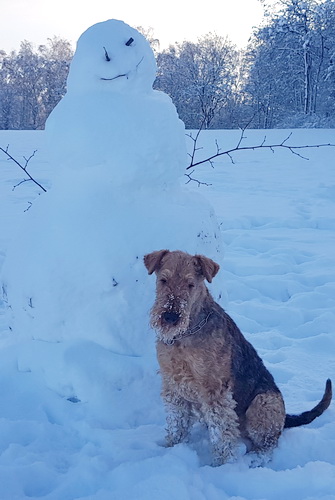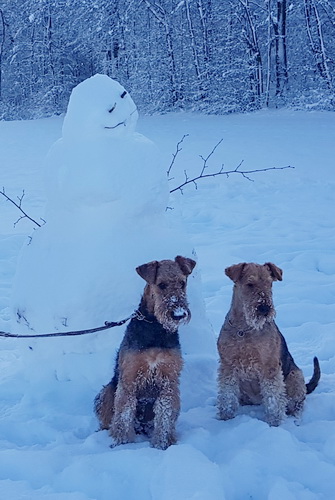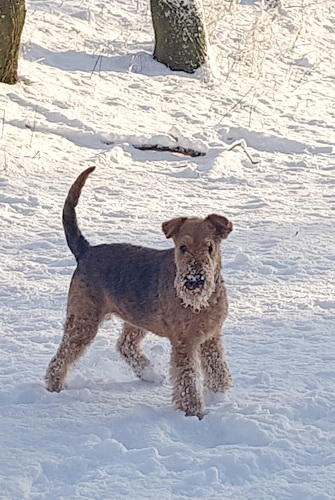 "Neele geht es Gott sei Dank immer noch gut. Unsere Spaziergänge macht sie schön mit, zwar zeitweise in ihrem Tempo, aber alles im grünen Bereich. Schauspielerische Fähigkeiten werden auch in ihr stecken, so geht sie manchmal eine Leinenlänge hinter mir und sobald wir in unserem Garten angekommen sind, springt sie rum wie ein kleines Fohlen und animiert zum Ball spielen. Emil gegenüber, der ja mittlerweile auch schon 6 Monate alt ist, benimmt sie sich total souverän. Er hätte sich keine bessere Erzieherin wünschen können. Sie hat so viel Geduld mit ihm, wenn das Maß aber voll ist, reagiert sie entsprechend, aber immer noch wohl dosiert."
---
---
Quiet der Racker = Quite Stunning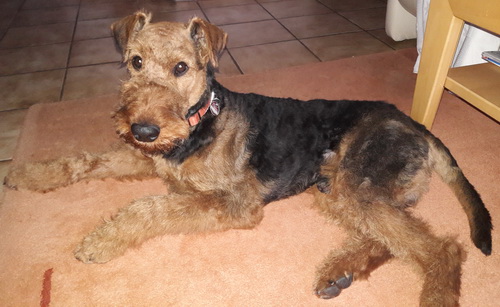 "Gestern war Frauchen mit mir Keller und hat mich gekämmt und das Fell gekürzt . UND! Heute sehe ich um die Schnauze aus wie frisch gepudert. Der Schnee ist ja toll, aber in meinem Fell hat er nichts zu suchen! Nach dem Spaziergang dauert es immer so lange, bis der Schnee von meinen Pfoten und dem Rest verschwunden ist. Frauchen meint: sonst ist die ganz Wohnung nass. Mir egal, ich hab doch schließlich Personal zum putzen
..."
---
Quiet der Racker
"Hurra endlich ist es schön, trocken und kalt draußen und wir können super spazieren gehen. Nur meint mein Frauchen, dass ich jetzt nicht mehr wachsen darf, sonst würde ich nicht mehr in den Kofferraum passen."
---
Lilly = Queen of Diamonds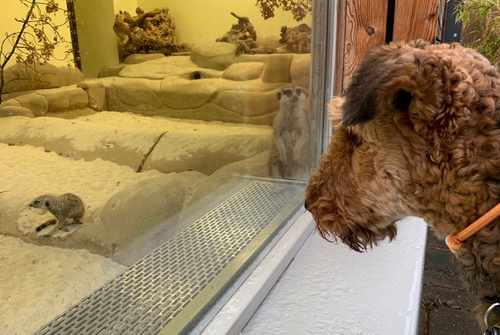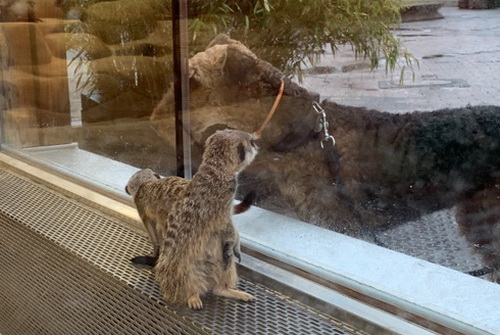 "Lilly war auf Erkundungstour im Zoo. Es war sehr aufregend für sie und die Tiere im Zoo. Es gab so viele neue Gerüche und Ablenkungen. Da war es schwer, gut zu gehorchen
."
---
Share No Secrets = Lucky 28. 6. 2007 - 13. 1. 2019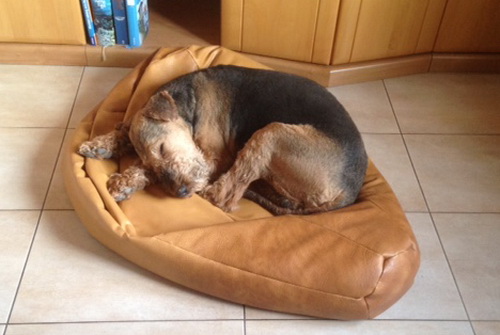 "Schweren Herzens haben wir unsern Lucky einschläfern lassen ..."
---
Frühere Bilder: siehe Inhaltsverzeichnis weiter unten!
Einzelne Hunde haben eigene Seiten:
| | |
| --- | --- |
| Anton = East Wind hier | Atty = Young Duke's Attitude of Mind hier |
| Atty in Dänemark hier | Birko = Best Bet Yet hier |
| Bruno = Hell's Angel hier | Crazy = Cowboy and Gentleman hier |
| Felix = Faithful Nature hier | Filou = Fighting Spirit hier |
| Flo = Blue Moon Rhapsody hier | Harry = Half the Battle hier |
| Hummel = Spice of Life hier | Hurri = No Speed Limit hier |
| Iron = Iron Sentinel hier | Luzie = Up She Goes hier |
| Max = Yankee Doodle hier | Merlin = Avalon's Hero hier |
| Neele = Trinket hier | Tilda = Hoist The Flag hier |
| Winnie = Winner Takes All hier | Yani = Yearn for Sunshine hier |
| Yukon = Yet to Yield An Inch hier | Ziggy = Zodiak Skyklight hier |
| Zora = Zounds of Indignation hier | |
Inhaltsverzeichnis:
Familienhunde 1: Zala, Kenzo, Sandy, Ghana, Lionn, Enya, Finn und Jaska, Loriot, Max, Sandy, Lotti, XPorthos, Pluto, Ghana, Buddy, Ben, Luzie, Yanny, Cleo, Kira, Sissy und Orry, Cato, Sina, Reachy, Vote of Confidence, Dorian Grey, Raudi, Sam, Felix, Quincy, Twiggy
Familienhunde 2: Flo, Nugget, Joya, Finn, Crazy, Double Agent, Twiggy, Trine, Buddy, Olli, Sandy, Luca, Dave, Drunky, Enya, Yanni, Lotti, Birko, XPorthos, Max, Charly, Orry, Olli und Lina, Lady, Lucky, Vote of Confidence und Stanley, Brisko, Zala, Amy, Ghana, Fee
Familienhunde 3: Linus/Clancy, Tessa, XPorthos, Elvis, Charly, Dede und Mats, Amy, Buddy (C), Handsome Harry, Flora, Eddy, Ginger, Bruno, Holly, Lotti, Anton, Tilda, Felix, Finn, Atty, Cira und Max, Luzie, Nugget, Pluto, Filou, Final Countdown, Buddy (N), Falco, Frieda, Luca, Fee, Crazy, Merlin, Yanny, Didi und Bond, Ghana, Max, Double Agent, Sandy, Lesco, Ben
Familienhunde 4: Spike, Lotti, Flora, Striker, Amy, Finni, Finn, Dede und Mats, Henry, Flora, Clancy, Elvis, Cira und Max, X-Porthos, Charly, Morty, Lucky, Drunky, noch ein Lucky, Nugget, Striker, Ginger, Nina, Joker, Elvis, Pluto, Candy, Frieda, Kira, Enya, Buddy, Felix, Keep the Ball Rolling, Ivy, Paul, Gustav
Familienhunde 5: im neuen Zuhause - die K's, die L's, die M's
Familienhunde 6: Ferry, Joker, Money, Samson, Lotti, Mette, Atty, Flo, Kami, Ivy, Perfect Picture, Finn, Lily, Ryan, Cira und Max, Striker, Nugget, Sabrina und Filou, Tasso, Nina, Max, Ghana, Mats oder Dede, Otto, Lenny und Nero, Let Your Hair Down und Now It's My Moment, Elvis, Coco und Sky
Familienhunde 7: Patouche, Fynn, Finn, Brisko, Flo, Nina, Samson, Buddy, Ivy, Frieda, Otto, Ferry, Coco und Sky, Lotti, Winston, Mette, Pina, Nelson
Familienhunde 8: die Q's im neuen Zuhause
Familienhunde 9: Lilly, Erna, Fynn, Quite, Rank And File, Striker, Glen, Daisy, Samson, Patouche, Joker, Tasso, Money
Familienhunde 10: Quite, Lilly, Quiet, Su, Fynn, Silas, Erna, Finn, Daisy, Scarlett, Rufus, Scarlet Sundown
Familienhunde 11: Su und No, Quiet der Racker, Silas, Quite, Kenzo, Bingley, Glen,Lilly, Erna, Neele, Let Your Hair Down und Now It's My Moment, Solomon, Scalli
Familienhunde 12: Weihnachts- und Neujahrsgrüße 2018