Wir freuen uns immer über Nachrichten und Bilder von unserem Nachwuchs im neuen Zuhause!
We are always glad to hear about our offspring in their new home, we appreciate pictures very much!
---
Ein Inhaltsverzeichnis unserer Rubrik "Familienhunde" finden Sie am Ende dieser Seite
---
Bald 6 Jahre alt: Joker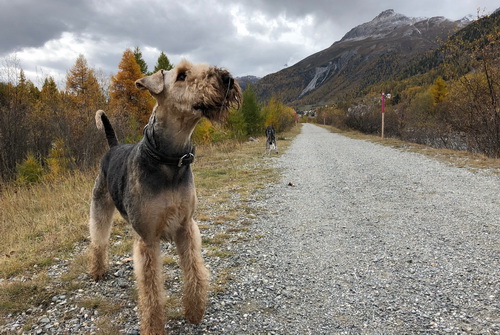 ---
Lilly = Queen of Diamonds
"Lilly hat den gestrigen Tag auch sehr genossen. Sie hat sich (Geburtstag-)feiern lassen. Wandern in Winterberg und Leberwurstessen standen auf dem Programm."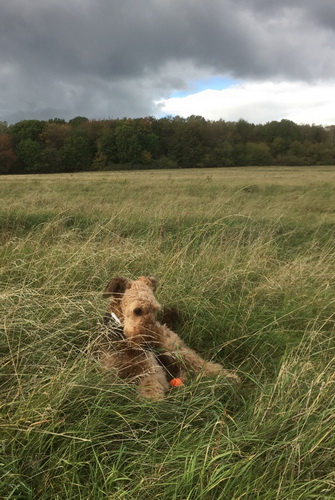 ---
Emil = The Race is On grüßt aus dem "bergigen und waldigen Fichtelgebirge
"Ich mußte soviel im Wald spazieren gehen, selbst auf die höchsten Aussichtstürme bin ich hochgeklettert, aber dann konnte ich mich in den kleinen Bächen schööön erfrischen ..."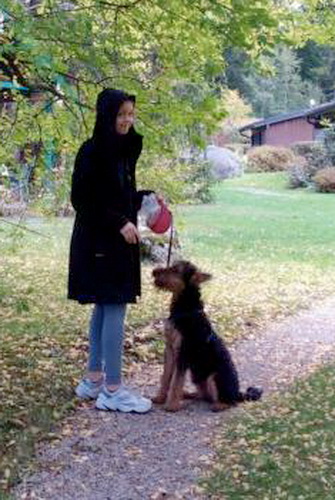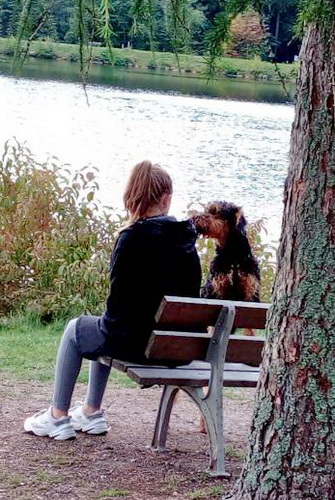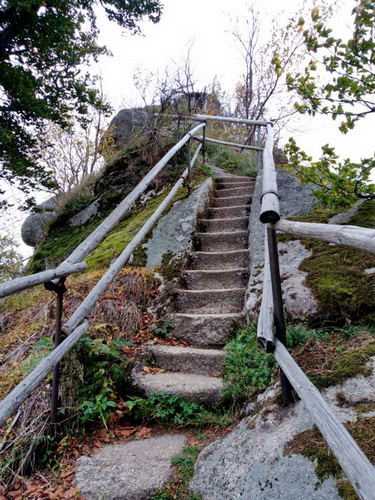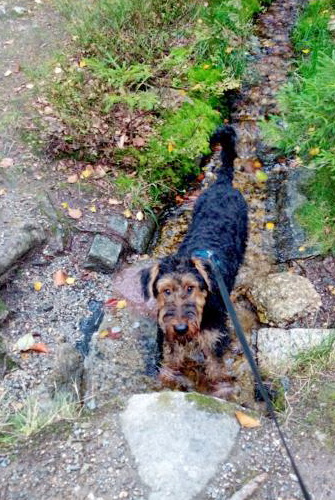 ---
Quiet der Racker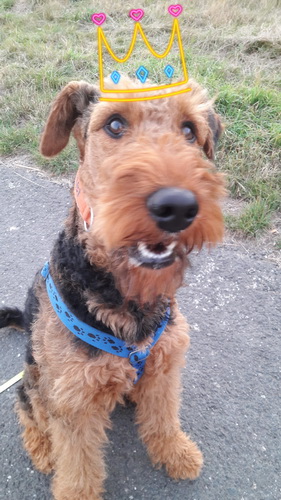 "Heute, am 4. 10., bin ich zusammen mit meinen Geschwistern als Q-Wurf geboren worden. Ich habe es, so glaube ich, im neuen Zuhause recht gut getroffen. Jedenfalls fühle ich mich wohl, mir geht es richtig gut und alle finden mich toll. Ab und an schimpft mein Frauchen mit mir, wenn ich ein zu großer Racker bin, aber das ist dann auch okay ..."
---
Neele
"Neele hat im September Urlaub an der Ostsee in Bansin gemacht. Wie die Bilder zeigen, hat sich Neele überall wohlgefühlt. Sie ist so relaxt, dass sie sich auch am Hundestrand ein Nickerchen gönnen konnte.
An einem Abend hat Neele am Hundestrand mal wieder ihren tollen Charakter gezeigt. Sie hat wohl bemerkt, dass in einiger Entfernung der kleine Münsterländerwelpe, 4,5 Monate alt, den sie am Tag zuvor kennengelernt hat, von einem großen schwarzen Mix bedrängt worden ist. Da rennt sie entrüstet hin und will die Sache klären. Auch bei einem anderen Wirbelwind am Hundestrand hat sie die Chefin raushängen lassen. Irgendwie begegnen ihr fremde Hunde immer mit Respekt. Dies wird von ihr auch alles ohne einen bösen Ton, also ganz souverän geregelt, so ist sie eben. Ich bin sehr stolz auf meine ältere Dame."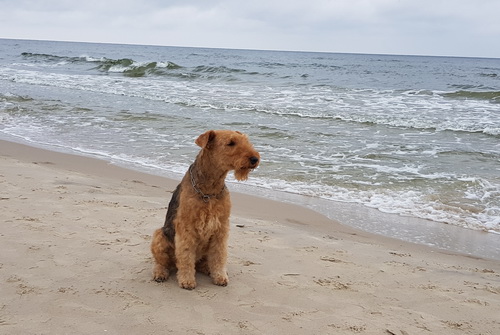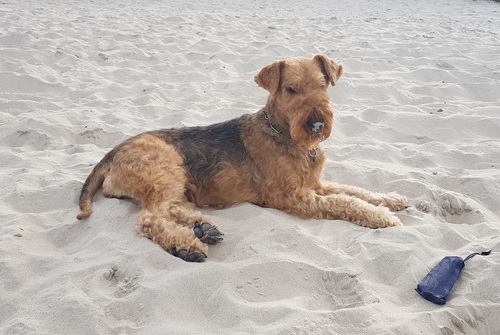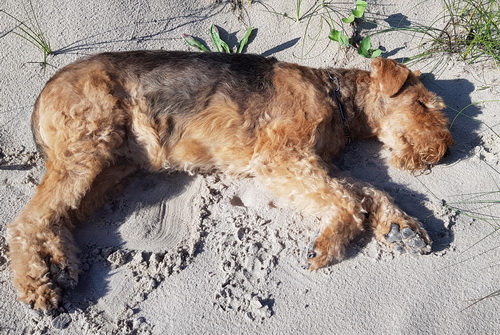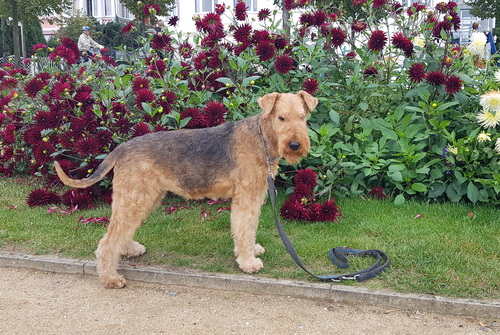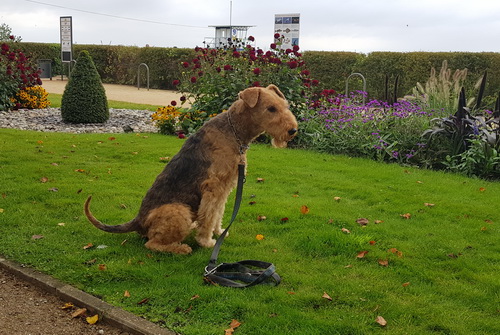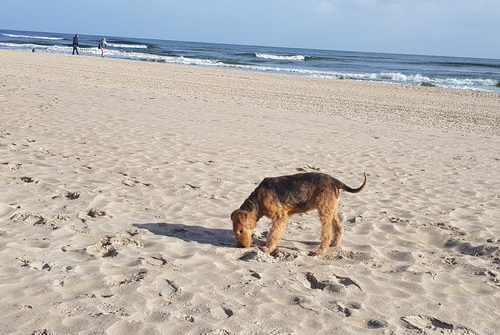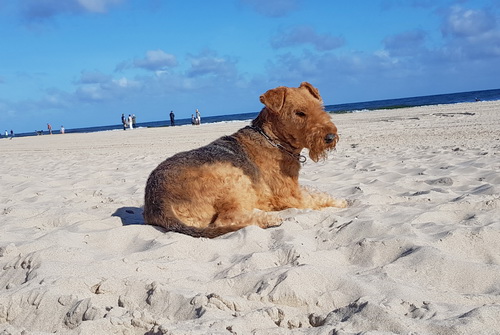 ---
Toni = The One and Only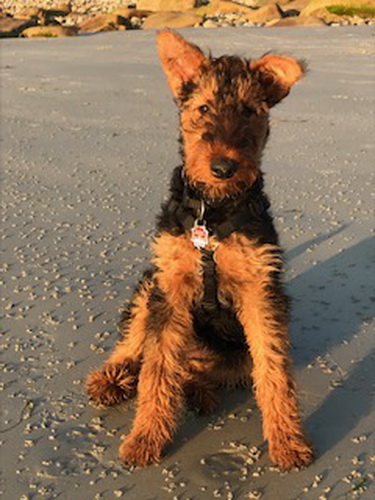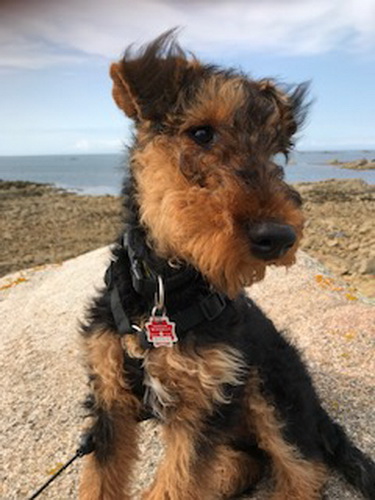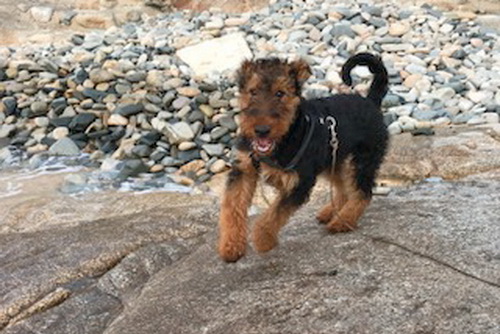 ---
Su = Sunrise Serenade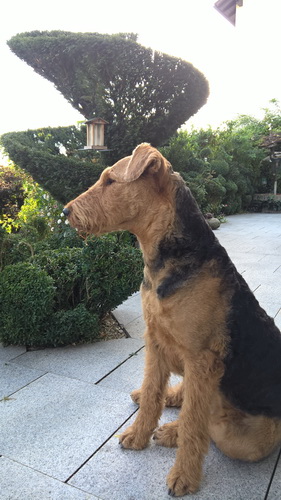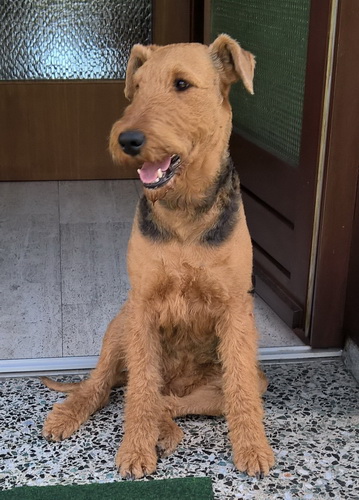 ---
Einzelne Hunde haben eigene Seiten:
| | |
| --- | --- |
| Anton = East Wind hier | Atty = Young Duke's Attitude of Mind hier |
| Atty in Dänemark hier | Birko = Best Bet Yet hier |
| Bruno = Hell's Angel hier | Crazy = Cowboy and Gentleman hier |
| Felix = Faithful Nature hier | Filou = Fighting Spirit hier |
| Flo = Blue Moon Rhapsody hier | Harry = Half the Battle hier |
| Hummel = Spice of Life hier | Hurri = No Speed Limit hier |
| Iron = Iron Sentinel hier | Luzie = Up She Goes hier |
| Max = Yankee Doodle hier | Merlin = Avalon's Hero hier |
| Neele = Trinket hier | Tilda = Hoist The Flag hier |
| Winnie = Winner Takes All hier | Yani = Yearn for Sunshine hier |
| Yukon = Yet to Yield An Inch hier | Ziggy = Zodiak Skyklight hier |
| Zora = Zounds of Indignation hier | |
Inhaltsverzeichnis:
Familienhunde 1: Zala, Kenzo, Sandy, Ghana, Lionn, Enya, Finn und Jaska, Loriot, Max, Sandy, Lotti, XPorthos, Pluto, Ghana, Buddy, Ben, Luzie, Yanny, Cleo, Kira, Sissy und Orry, Cato, Sina, Reachy, Vote of Confidence, Dorian Grey, Raudi, Sam, Felix, Quincy, Twiggy
Familienhunde 2: Flo, Nugget, Joya, Finn, Crazy, Double Agent, Twiggy, Trine, Buddy, Olli, Sandy, Luca, Dave, Drunky, Enya, Yanni, Lotti, Birko, XPorthos, Max, Charly, Orry, Olli und Lina, Lady, Lucky, Vote of Confidence und Stanley, Brisko, Zala, Amy, Ghana, Fee
Familienhunde 3: Linus/Clancy, Tessa, XPorthos, Elvis, Charly, Dede und Mats, Amy, Buddy (C), Handsome Harry, Flora, Eddy, Ginger, Bruno, Holly, Lotti, Anton, Tilda, Felix, Finn, Atty, Cira und Max, Luzie, Nugget, Pluto, Filou, Final Countdown, Buddy (N), Falco, Frieda, Luca, Fee, Crazy, Merlin, Yanny, Didi und Bond, Ghana, Max, Double Agent, Sandy, Lesco, Ben
Familienhunde 4: Spike, Lotti, Flora, Striker, Amy, Finni, Finn, Dede und Mats, Henry, Flora, Clancy, Elvis, Cira und Max, X-Porthos, Charly, Morty, Lucky, Drunky, noch ein Lucky, Nugget, Striker, Ginger, Nina, Joker, Elvis, Pluto, Candy, Frieda, Kira, Enya, Buddy, Felix, Keep the Ball Rolling, Ivy, Paul, Gustav
Familienhunde 5: im neuen Zuhause - die K's, die L's, die M's
Familienhunde 6: Ferry, Joker, Money, Samson, Lotti, Mette, Atty, Flo, Kami, Ivy, Perfect Picture, Finn, Lily, Ryan, Cira und Max, Striker, Nugget, Sabrina und Filou, Tasso, Nina, Max, Ghana, Mats oder Dede, Otto, Lenny und Nero, Let Your Hair Down und Now It's My Moment, Elvis, Coco und Sky
Familienhunde 7: Patouche, Fynn, Finn, Brisko, Flo, Nina, Samson, Buddy, Ivy, Frieda, Otto, Ferry, Coco und Sky, Lotti, Winston, Mette, Pina, Nelson
Familienhunde 8: die Q's im neuen Zuhause
Familienhunde 9: Lilly, Erna, Fynn, Quite, Rank And File, Striker, Glen, Daisy, Samson, Patouche, Joker, Tasso, Money
Familienhunde 10: Quite, Lilly, Quiet, Su, Fynn, Silas, Erna, Finn, Daisy, Scarlett, Rufus, Scarlet Sundown
Familienhunde 11: Su und No, Quiet der Racker, Silas, Quite, Kenzo, Bingley, Glen,Lilly, Erna, Neele, Let Your Hair Down und Now It's My Moment, Solomon, Scalli
Familienhunde 12: Weihnachts- und Neujahrsgrüße 2018
Familienhunde 13: Su, Mette, Quiet, Silas, Rufus, Lilly, Quincy, Glen, Tasso, Bingly
Familienhunde 14: die T's im neuen Zuhause
Familienhunde 15: die T's und Lilly, Holly und Scarlett, Patouche, Flora, Emil
Familienhunde 16: Quiet, Capper, Rank, Quite A Reputation, Glen, Silas, Lilly, Charlotte, Tango