Wir freuen uns immer über Nachrichten und Bilder von unserem Nachwuchs im neuen Zuhause!
We are always glad to hear about our offspring in their new home, we appreciate pictures very much!
---
Ein Inhaltsverzeichnis unserer Rubrik "Familienhunde" finden Sie am Ende dieser Seite
---
Neele und Azubi - Neuzugang Emil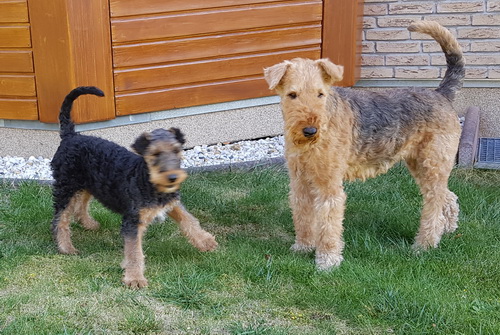 ---
Die geliebte Hummel = Spice of Life mußte gehen
28. 8. 2007 - 9. 10. 2018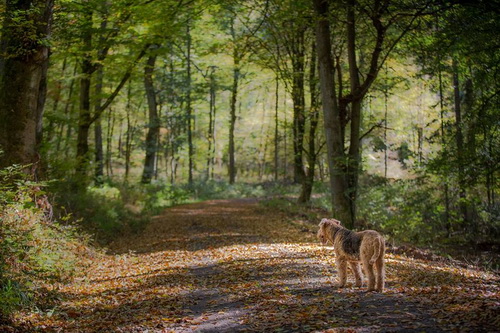 Hummel hat ihre eigene Seite - hier
---
Let Your Hair Down und Now It's My Moment und Pudelfreundin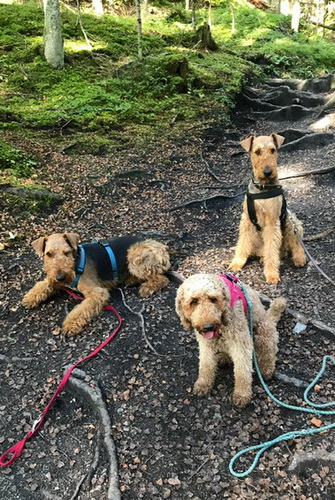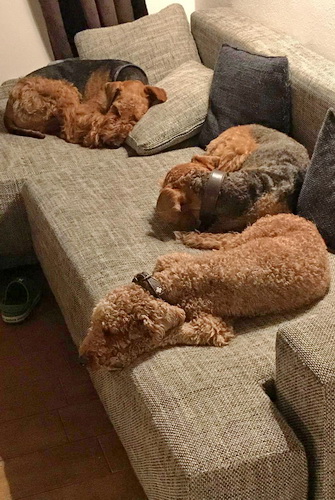 ---
Solomon = Smartest of the Bunch
hat an einem seiner Jugend entsprechenden Test der Hunting Working Airedales Inc. teilgenommen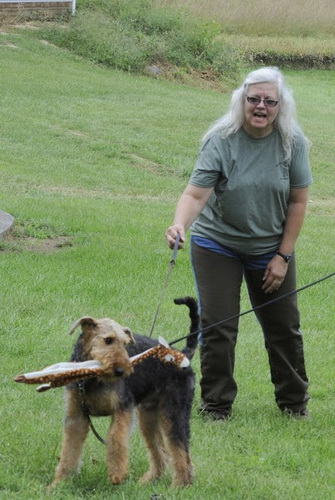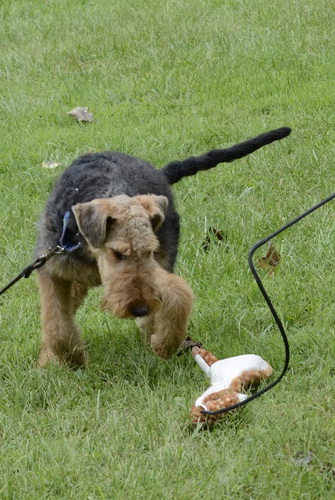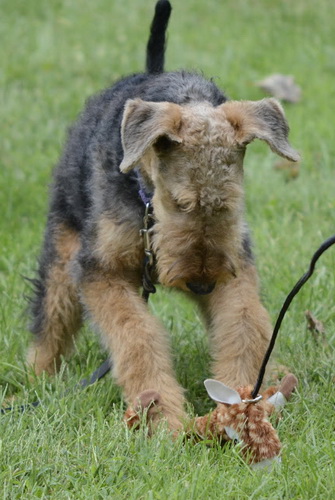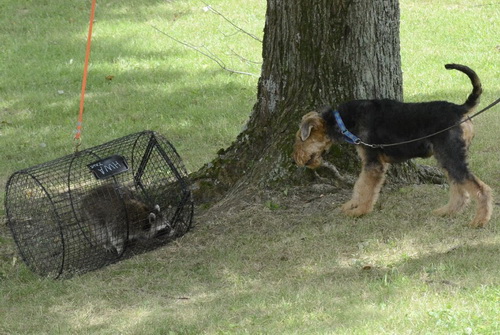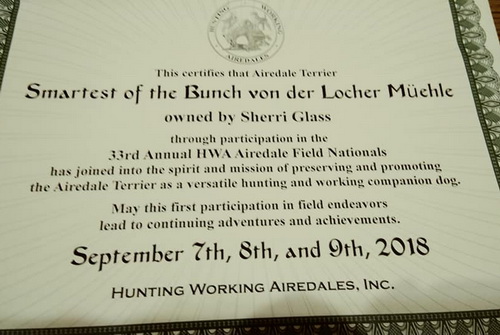 ---
Erna = Rosie Lea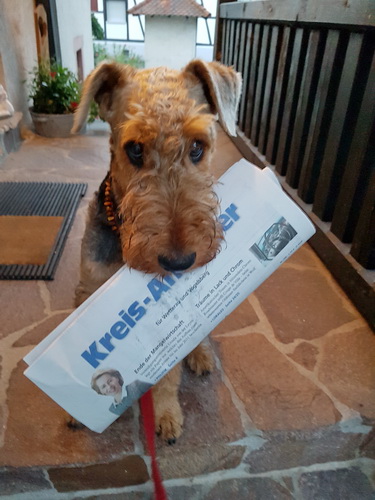 Erna bringt Herrchen die Zeitung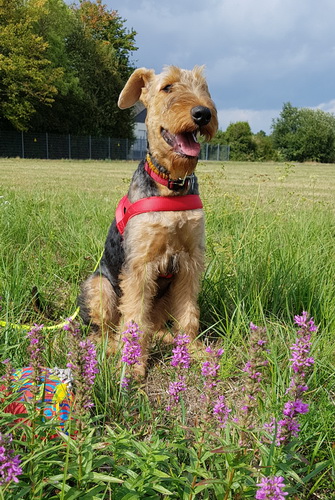 ---
Silas = Set The World On Fire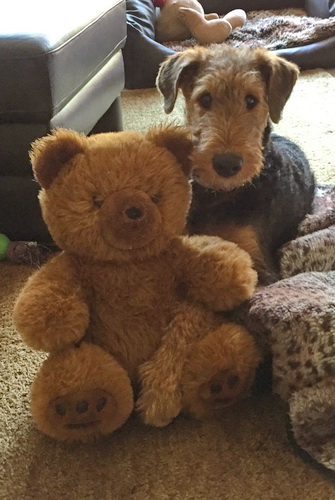 ---
Quiet = Quite Stunning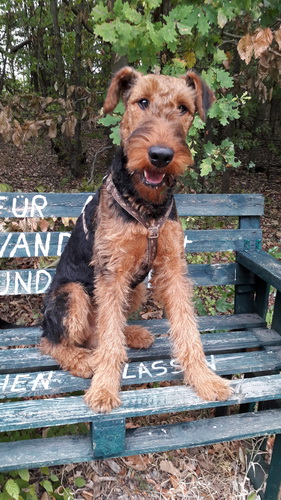 ---
Shadow of Doubt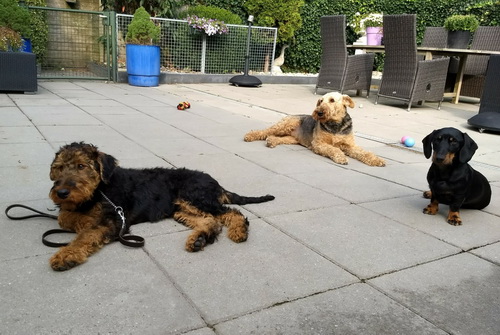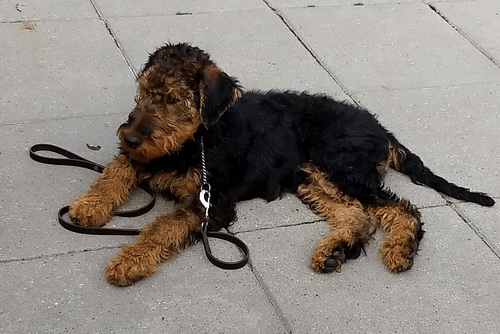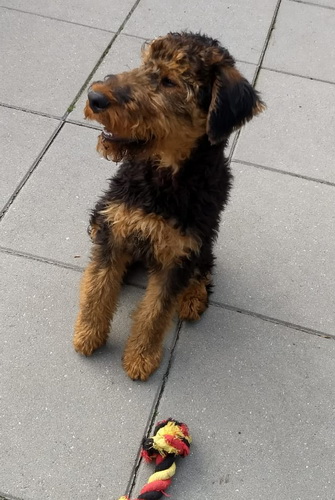 ---
Lilly = Queen of Diamonds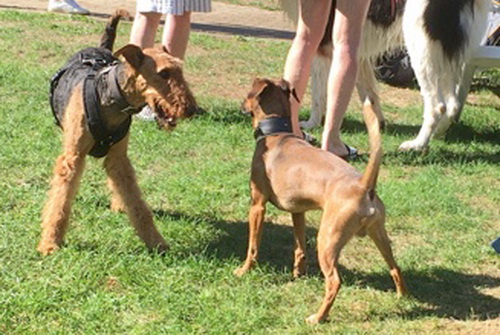 ---
Glen = Quantum of Energy
"... Wir waren mit ihm in Südfrankreich, es hat ihm sehr gut gefallen, er entwickelte sich zu einem begeisterten Schwimmer, auch bei den Klippenwanderungen war er uns immer eine Nasenlänge voraus. Er ist ein richtiger Spitzbub, immer auf Ausschau was er anstellen kann. Er hat eine exzellente Nase und das ist eine Herausforderung beim Ausgehen. Er riecht alles, Nase hoch und los geht's. Ich will diese Eigenschaft fördern... Ich habe große Freude mit ihm..."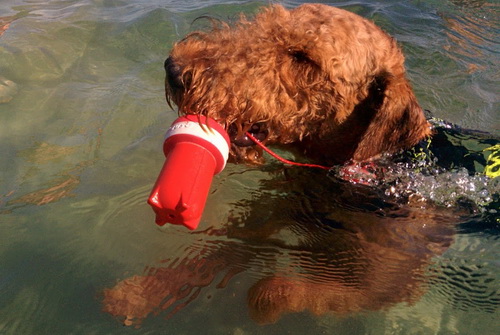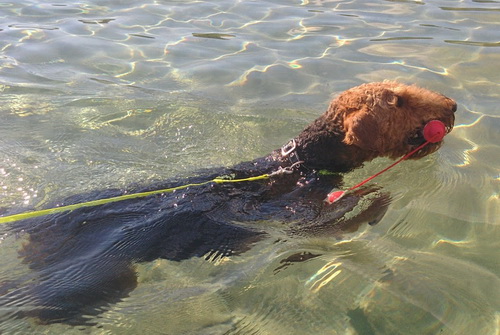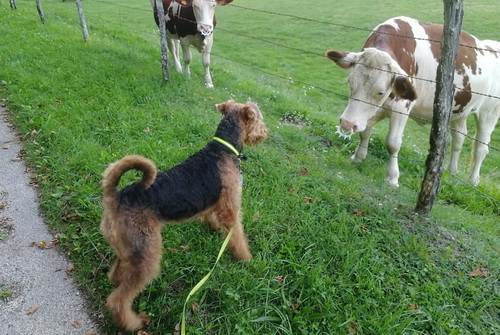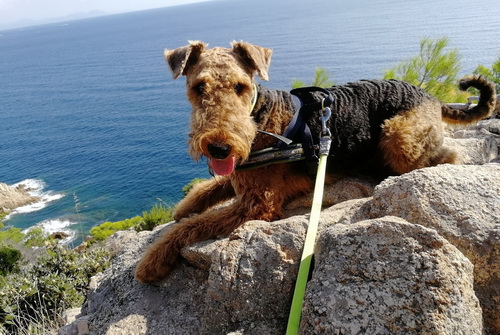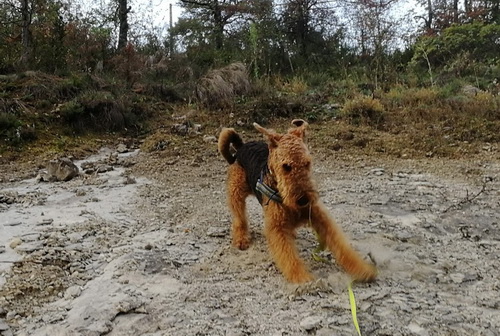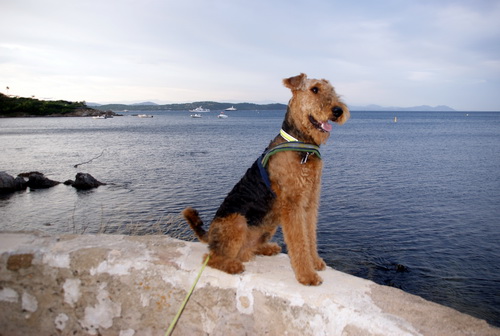 ---
Scalli = Scarlet Sundown
"... fühlt sich airedale-wohl. Sie frißt am liebsten Pansen, Herz und fleisch vom Rotwild und das bis zum Anschlag. Das bekommt ihr auch gut - man kann sie wachsen hören ..."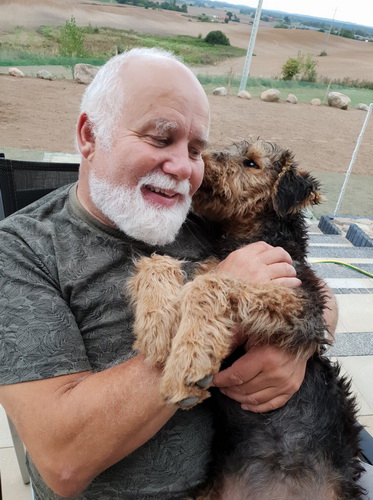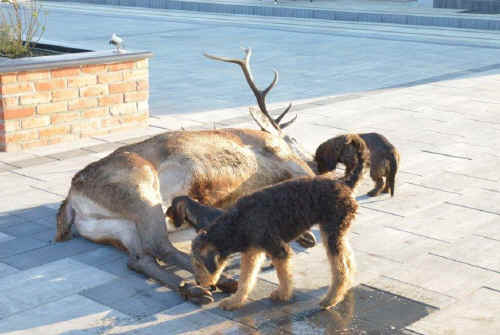 ---
Hurricane = No Speed Limit
"Uwe glaubt, ich höre zuviel von seiner Musik und setze es in die Tat um, wie z. B. JUMP (Van Halen), JUMPING JACK FLASH (Rolling Stones) oder LIKE A HURRICANE (Neil Young)!
Je mehr ich darüber nachdenke, sollte ich vielleicht eine Karriere als "Flightdale" anstreben, aber auch als " Beachdale " fühle ich mich bei diesen Liedern wohl: ON THE BEACH (Chris Rea), GOOD VIBRATIONS (Beach Boys), BEACH`N (J. Owens).
Vielleicht sollte ich mich von jetzt an, "Mister Sanddale" nennen, was meint Ihr dazu?"
See you soon
HURRICANE"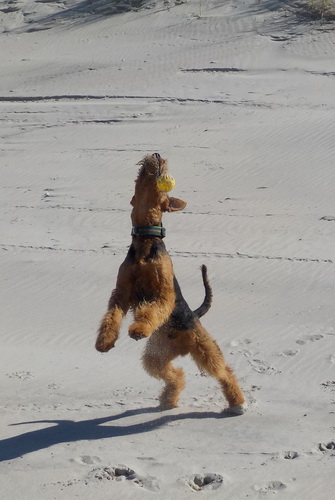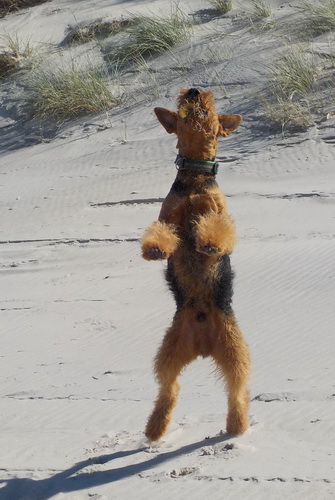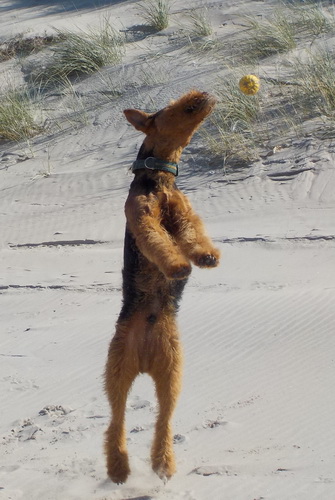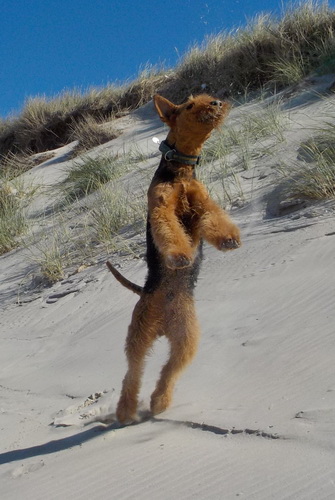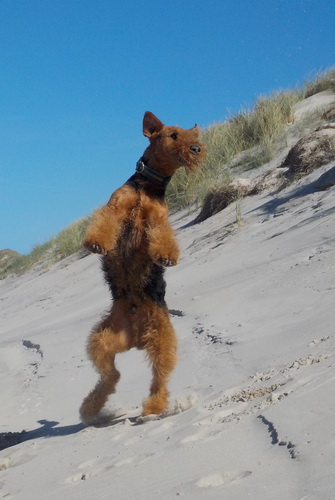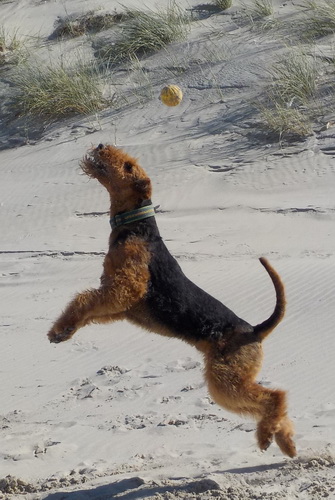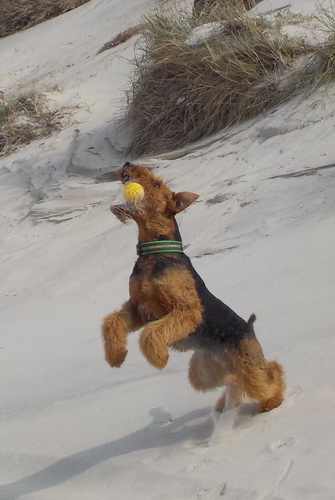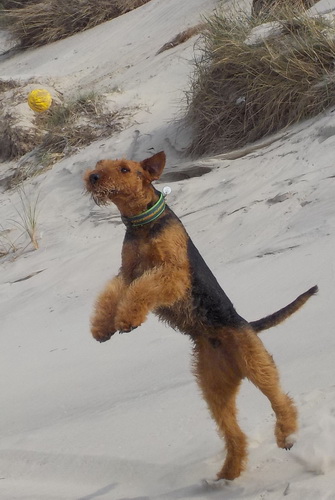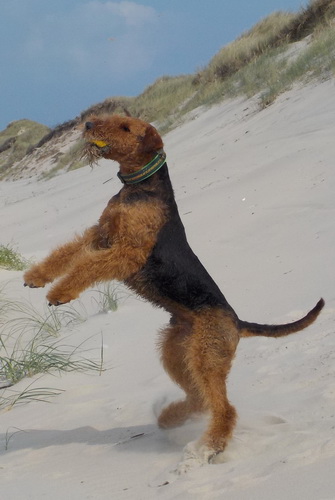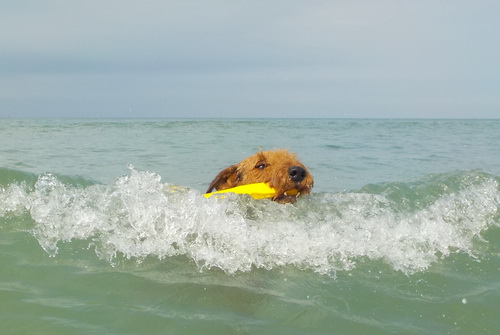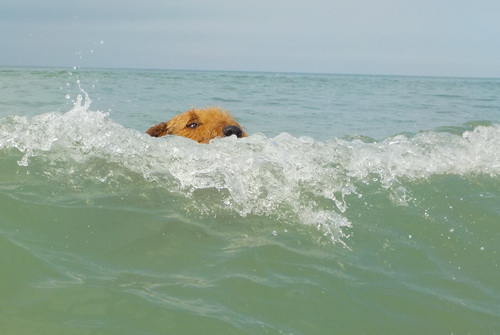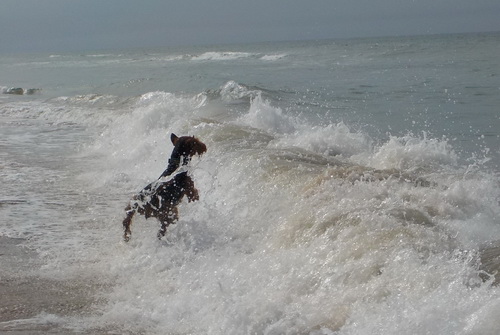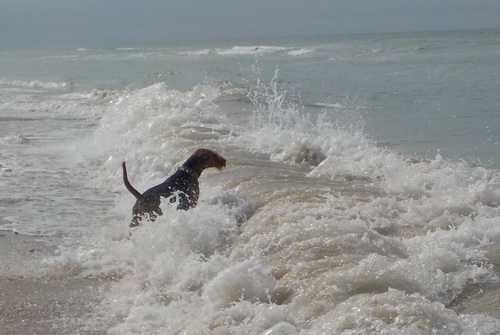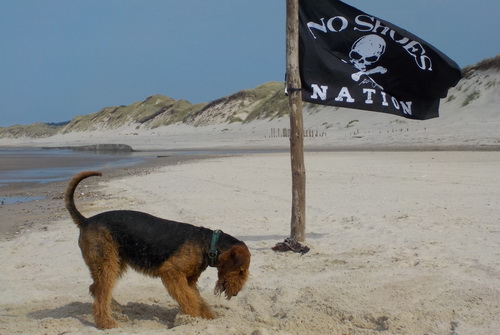 ---
Frühere Bilder: siehe Inhaltsverzeichnis weiter unten!
Einzelne Hunde haben eigene Seiten:
| | |
| --- | --- |
| Anton = East Wind hier | Atty = Young Duke's Attitude of Mind hier |
| Atty in Dänemark hier | Birko = Best Bet Yet hier |
| Bruno = Hell's Angel hier | Crazy = Cowboy and Gentleman hier |
| Felix = Faithful Nature hier | Filou = Fighting Spirit hier |
| Flo = Blue Moon Rhapsody hier | Harry = Half the Battle hier |
| Hummel = Spice of Life hier | Hurri = No Speed Limit hier |
| Iron = Iron Sentinel hier | Luzie = Up She Goes hier |
| Max = Yankee Doodle hier | Merlin = Avalon's Hero hier |
| Neele = Trinket hier | Tilda = Hoist The Flag hier |
| Winnie = Winner Takes All hier | Yani = Yearn for Sunshine hier |
| Yukon = Yet to Yield An Inch hier | Ziggy = Zodiak Skyklight hier |
| Zora = Zounds of Indignation hier | |
Inhaltsverzeichnis:
Familienhunde 1: Zala, Kenzo, Sandy, Ghana, Lionn, Enya, Finn und Jaska, Loriot, Max, Sandy, Lotti, XPorthos, Pluto, Ghana, Buddy, Ben, Luzie, Yanny, Cleo, Kira, Sissy und Orry, Cato, Sina, Reachy, Vote of Confidence, Dorian Grey, Raudi, Sam, Felix, Quincy, Twiggy
Familienhunde 2: Flo, Nugget, Joya, Finn, Crazy, Double Agent, Twiggy, Trine, Buddy, Olli, Sandy, Luca, Dave, Drunky, Enya, Yanni, Lotti, Birko, XPorthos, Max, Charly, Orry, Olli und Lina, Lady, Lucky, Vote of Confidence und Stanley, Brisko, Zala, Amy, Ghana, Fee
Familienhunde 3: Linus/Clancy, Tessa, XPorthos, Elvis, Charly, Dede und Mats, Amy, Buddy (C), Handsome Harry, Flora, Eddy, Ginger, Bruno, Holly, Lotti, Anton, Tilda, Felix, Finn, Atty, Cira und Max, Luzie, Nugget, Pluto, Filou, Final Countdown, Buddy (N), Falco, Frieda, Luca, Fee, Crazy, Merlin, Yanny, Didi und Bond, Ghana, Max, Double Agent, Sandy, Lesco, Ben
Familienhunde 4: Spike, Lotti, Flora, Striker, Amy, Finni, Finn, Dede und Mats, Henry, Flora, Clancy, Elvis, Cira und Max, X-Porthos, Charly, Morty, Lucky, Drunky, noch ein Lucky, Nugget, Striker, Ginger, Nina, Joker, Elvis, Pluto, Candy, Frieda, Kira, Enya, Buddy, Felix, Keep the Ball Rolling, Ivy, Paul, Gustav
Familienhunde 5: im neuen Zuhause - die K's, die L's, die M's
Familienhunde 6: Ferry, Joker, Money, Samson, Lotti, Mette, Atty, Flo, Kami, Ivy, Perfect Picture, Finn, Lily, Ryan, Cira und Max, Striker, Nugget, Sabrina und Filou, Tasso, Nina, Max, Ghana, Mats oder Dede, Otto, Lenny und Nero, Let Your Hair Down und Now It's My Moment, Elvis, Coco und Sky
Familienhunde 7: Patouche, Fynn, Finn, Brisko, Flo, Nina, Samson, Buddy, Ivy, Frieda, Otto, Ferry, Coco und Sky, Lotti, Winston, Mette, Pina, Nelson
Familienhunde 8: die Q's im neuen Zuhause
Familienhunde 9: Lilly, Erna, Fynn, Quite, Rank And File, Striker, Glen, Daisy, Samson, Patouche, Joker, Tasso, Money
Familienhunde 10: Quite, Lilly, Quiet, Su, Fynn, Silas, Erna, Finn, Daisy, Scarlett, Rufus, Scarlet Sundown