Wir freuen uns immer über Nachrichten und Bilder von unserem Nachwuchs im neuen Zuhause!
We are always glad to hear about our offspring in their new home, we appreciate pictures very much!
---
Ein Inhaltsverzeichnis unserer Rubrik "Familienhunde" finden Sie am Ende dieser Seite
---
Silas = Set The World On Fire feiert seinen Geburtstag
---
Quiet der Racker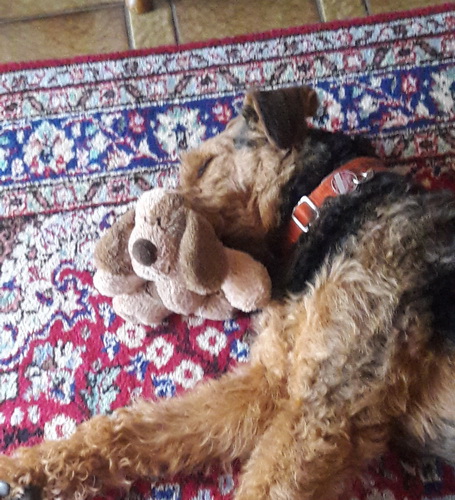 "Puh - Ostern ist ja soooo anstrengend! Die ganz Zeit hab ich aufgepasst und den Osterhasen leider net gefangen. Ich weiß gar net, wie der Osterhase es geschafft hat, nicht entdeckt zu werden. Ob ich doch nicht richtig hingesehen habe? Was soll's, nun ist es ja vorbei und ich kann endlich mal ausruhen. Ach ja, falls jemand den Osterhasen sieht, sagt im BITTE, dass ich nächstes Jahr noch besser aufpassen werde.
"
---
Su = Sunrise Serenade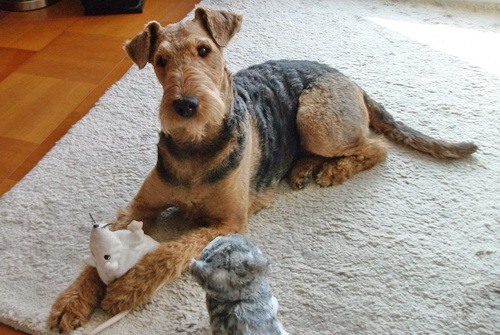 "Wenn ich es zwischen den Pfoten habe, ist es meins."
---
Buddy = Concrete Hero, 25. 6. 2011 - 18. 4. 2017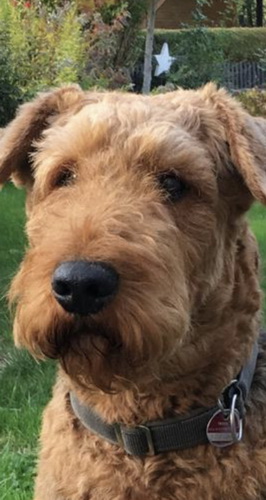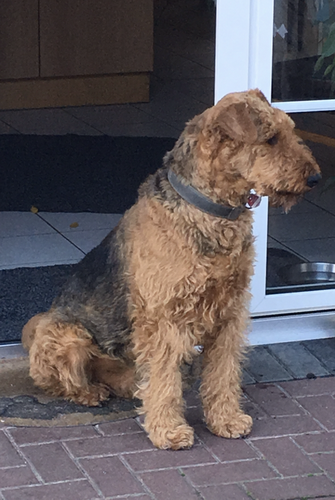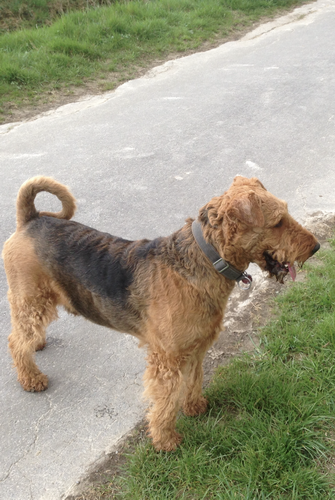 ---
Mette
"... vom weltbesten Terrier berichten. Mette ist ja nun schon drei Jahre alt und hat unsere Herzen komplett erobert. .. Mette ist sehr anlehnungsbedürftig und lässt große Nähe zu... Das Schönste für Mette ist der Kontakt zu anderen Hunden und sie kann wahre Opernarien singen, wenn sie einen Kollegen entdeckt. Um ihr ein regelmäßiges Toben zu ermöglichen, besuchen wir nach wie vor dreimal pro Woche unsere Hundeschule. Montags Agility ( ein Fest für Mette und für mich herausfordernd für Hirn und Körper), mittwochs und samstags Obedience. Vorher und hinterher kann sie nach Herzenslust toben und hat ihre festen Freunde unter den Kollegen. Ihre soziale Kompetenz wird von unserer Trainerin sehr geschätzt, deshalb wird Mette auch manchmal zum Sondereinsatz im Welpenkurs oder bei schwierigen Hunden gebeten... "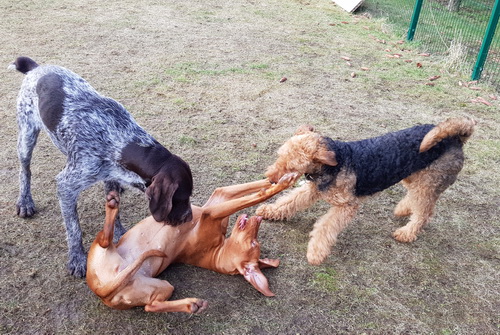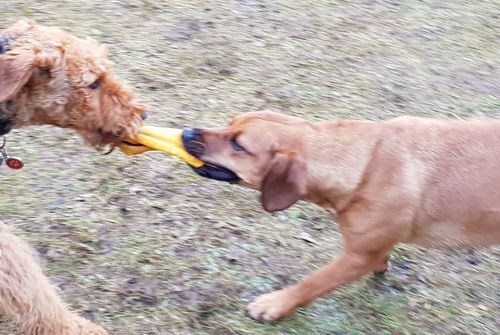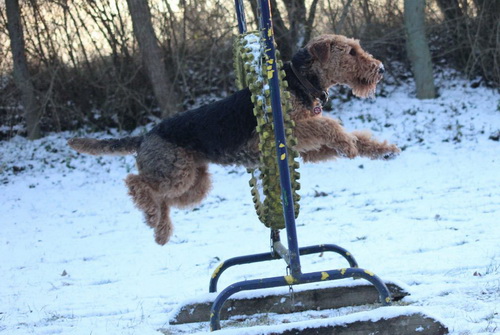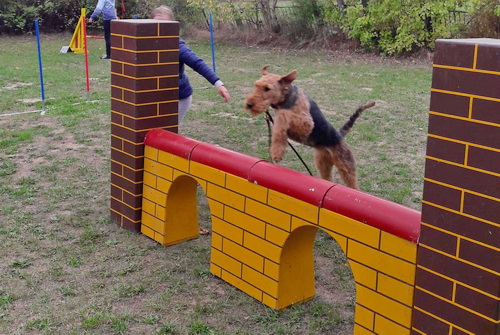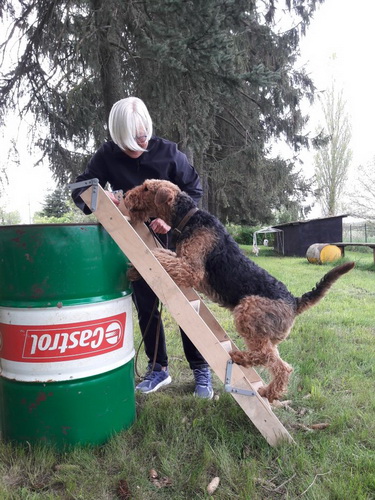 ---
Quiet der Racker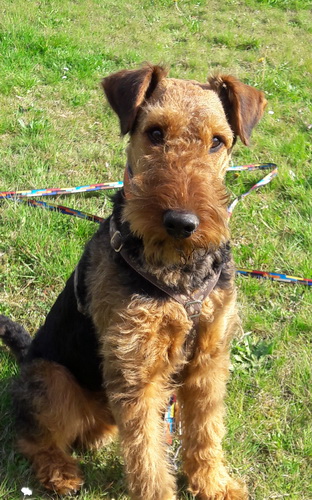 "Ach wie war es die letzten Tage soooo schön. Frauchen hat im Garten gearbeitet und ich hab die ganze Zeit aufgepasst und Unfug angestellt. HERRLICH!! Auf alten Ästen kauen, Löcher buddeln und die Sonne genießen. Ab und an hab ich auf Frauchen gehört, wenn sie mich gerufen hat, aber nur weil sie dann Leckerli für mich zur Belohnung hatte. Soooo schön kann Airedaleleben sein.
"
---
Frühere Bilder: siehe Inhaltsverzeichnis weiter unten!
Einzelne Hunde haben eigene Seiten:
| | |
| --- | --- |
| Anton = East Wind hier | Atty = Young Duke's Attitude of Mind hier |
| Atty in Dänemark hier | Birko = Best Bet Yet hier |
| Bruno = Hell's Angel hier | Crazy = Cowboy and Gentleman hier |
| Felix = Faithful Nature hier | Filou = Fighting Spirit hier |
| Flo = Blue Moon Rhapsody hier | Harry = Half the Battle hier |
| Hummel = Spice of Life hier | Hurri = No Speed Limit hier |
| Iron = Iron Sentinel hier | Luzie = Up She Goes hier |
| Max = Yankee Doodle hier | Merlin = Avalon's Hero hier |
| Neele = Trinket hier | Tilda = Hoist The Flag hier |
| Winnie = Winner Takes All hier | Yani = Yearn for Sunshine hier |
| Yukon = Yet to Yield An Inch hier | Ziggy = Zodiak Skyklight hier |
| Zora = Zounds of Indignation hier | |
Inhaltsverzeichnis:
Familienhunde 1: Zala, Kenzo, Sandy, Ghana, Lionn, Enya, Finn und Jaska, Loriot, Max, Sandy, Lotti, XPorthos, Pluto, Ghana, Buddy, Ben, Luzie, Yanny, Cleo, Kira, Sissy und Orry, Cato, Sina, Reachy, Vote of Confidence, Dorian Grey, Raudi, Sam, Felix, Quincy, Twiggy
Familienhunde 2: Flo, Nugget, Joya, Finn, Crazy, Double Agent, Twiggy, Trine, Buddy, Olli, Sandy, Luca, Dave, Drunky, Enya, Yanni, Lotti, Birko, XPorthos, Max, Charly, Orry, Olli und Lina, Lady, Lucky, Vote of Confidence und Stanley, Brisko, Zala, Amy, Ghana, Fee
Familienhunde 3: Linus/Clancy, Tessa, XPorthos, Elvis, Charly, Dede und Mats, Amy, Buddy (C), Handsome Harry, Flora, Eddy, Ginger, Bruno, Holly, Lotti, Anton, Tilda, Felix, Finn, Atty, Cira und Max, Luzie, Nugget, Pluto, Filou, Final Countdown, Buddy (N), Falco, Frieda, Luca, Fee, Crazy, Merlin, Yanny, Didi und Bond, Ghana, Max, Double Agent, Sandy, Lesco, Ben
Familienhunde 4: Spike, Lotti, Flora, Striker, Amy, Finni, Finn, Dede und Mats, Henry, Flora, Clancy, Elvis, Cira und Max, X-Porthos, Charly, Morty, Lucky, Drunky, noch ein Lucky, Nugget, Striker, Ginger, Nina, Joker, Elvis, Pluto, Candy, Frieda, Kira, Enya, Buddy, Felix, Keep the Ball Rolling, Ivy, Paul, Gustav
Familienhunde 5: im neuen Zuhause - die K's, die L's, die M's
Familienhunde 6: Ferry, Joker, Money, Samson, Lotti, Mette, Atty, Flo, Kami, Ivy, Perfect Picture, Finn, Lily, Ryan, Cira und Max, Striker, Nugget, Sabrina und Filou, Tasso, Nina, Max, Ghana, Mats oder Dede, Otto, Lenny und Nero, Let Your Hair Down und Now It's My Moment, Elvis, Coco und Sky
Familienhunde 7: Patouche, Fynn, Finn, Brisko, Flo, Nina, Samson, Buddy, Ivy, Frieda, Otto, Ferry, Coco und Sky, Lotti, Winston, Mette, Pina, Nelson
Familienhunde 8: die Q's im neuen Zuhause
Familienhunde 9: Lilly, Erna, Fynn, Quite, Rank And File, Striker, Glen, Daisy, Samson, Patouche, Joker, Tasso, Money
Familienhunde 10: Quite, Lilly, Quiet, Su, Fynn, Silas, Erna, Finn, Daisy, Scarlett, Rufus, Scarlet Sundown
Familienhunde 11: Su und No, Quiet der Racker, Silas, Quite, Kenzo, Bingley, Glen,Lilly, Erna, Neele, Let Your Hair Down und Now It's My Moment, Solomon, Scalli
Familienhunde 12: Weihnachts- und Neujahrsgrüße 2018
Familienhunde 13: Su, Mette, Quiet, Silas, Rufus, Lilly, Quincy, Glen