Heute morgen wurde ich wie üblich und wie gewünscht zärtlich und sanft geweckt. Ich dehnte mich wohlig und nahm dabei zur Kenntnis, daß draußen die Sonne schien, der Tag also wieder vielversprechend begann.
This morning I was lovingly and gently awakened by my service staff – as expected and desired. I stretched luxuriously and registered that the sun was shining, a promising start of a new day!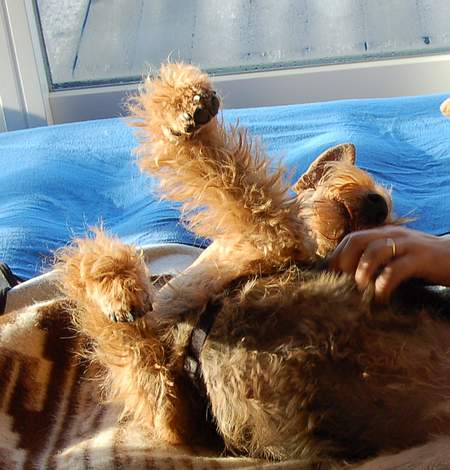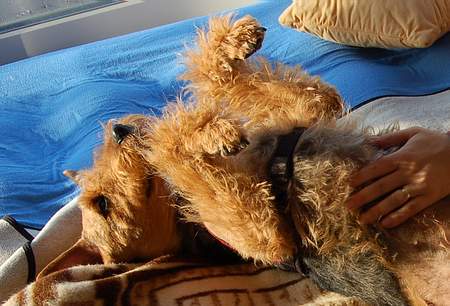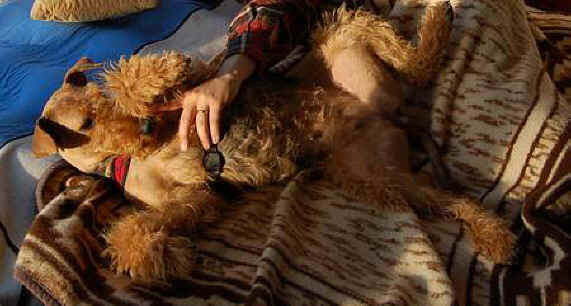 Leider durfte ich dem Frühstück meiner Zweibeiner wieder nicht beiwohnen, aber ich wußte mich alternativ zu beschäftigen.
Unfortunately, I was not allowed to attend my human being's breakfast, but I found an alternative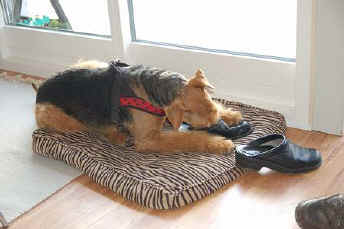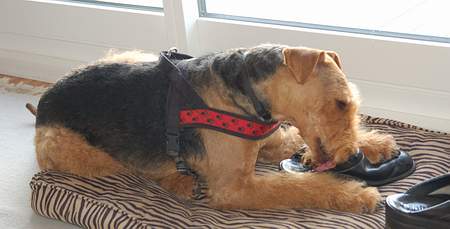 Sie frühstückten heute ausgiebig; daß ich sehnsuchtsvoll nach draußen guckte, nahmen sie eine ganze Weile nicht zur Kenntnis, ich machte auf "schööööner Hund" ...
They took a very long breakfast, they didn't take any notice of my looking out longingly! I acted the "beautiful dog" -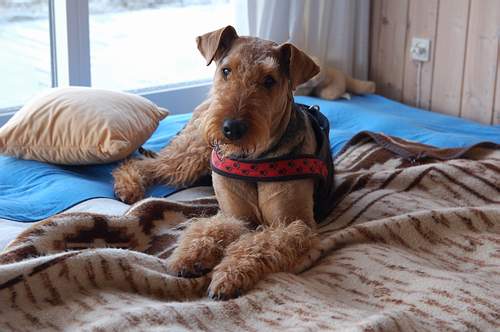 ... "unwiderstehlicher Hund" ...
then the "irresistible dog" -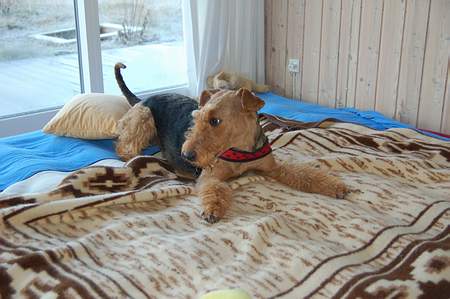 ... schließlich mußte ich meinen Sound auf "hartnäckiges Fiepen" einstellen - das half dann!
Nothing really helped so I finally had to try "persistent whimpering" – that did the trick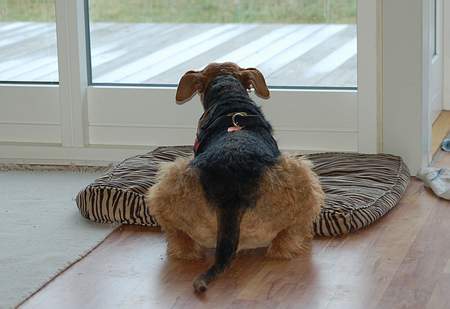 Heute war dann Expeditionstag, ich erkundete die Abbruchkante zum Strand.
Today was a day of expedition, I explored the edge leading to the beach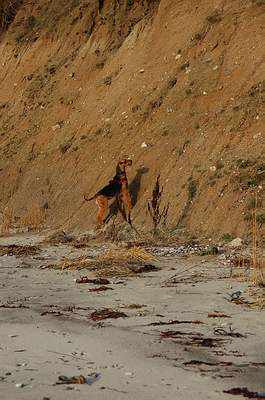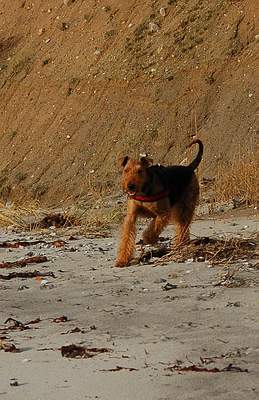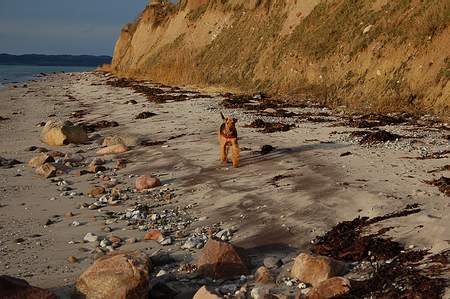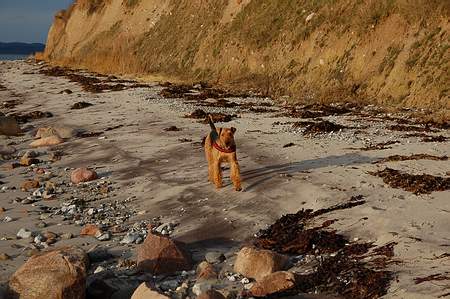 Meine Menschen fühlten sich in der fremden Umgebung allerdings etwas unsicher, so daß ich sie immer wieder zwischendurch ermuntern und beruhigen mußte.
My people, however, felt a bit uneasy in this unknown surrounding, so I had to calm and encourage them from time to time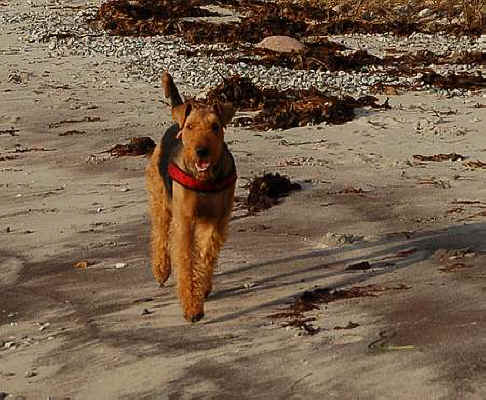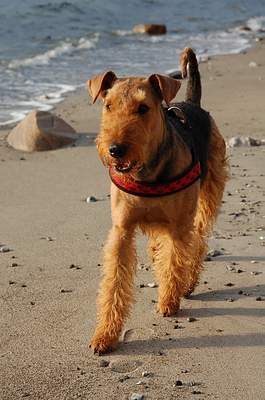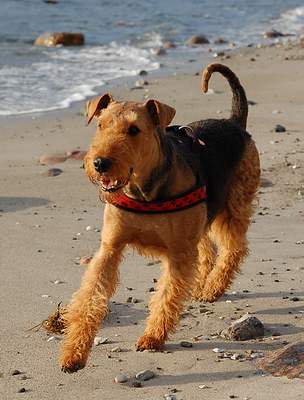 "Alles in Ordnung!!!" - "Everything OK!"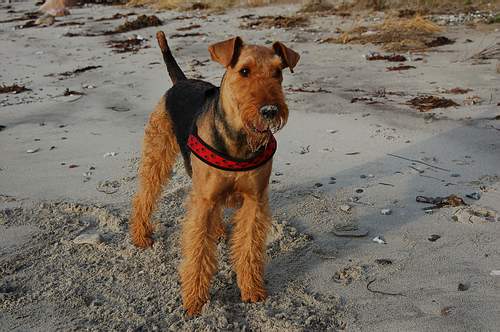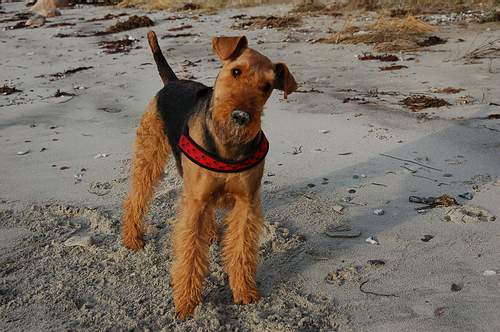 "Wollt ihr spielen? " - "You feel like playing?"
Ich forderte meine Menschen auf, ein passendes Steinchen zu suchen.
I asked my people to look for a suitable small stone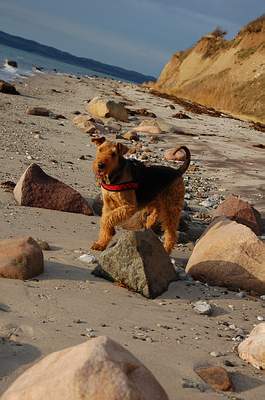 "Zu groß!" - "Too big!"
"Hast du eines?" - "You got one?"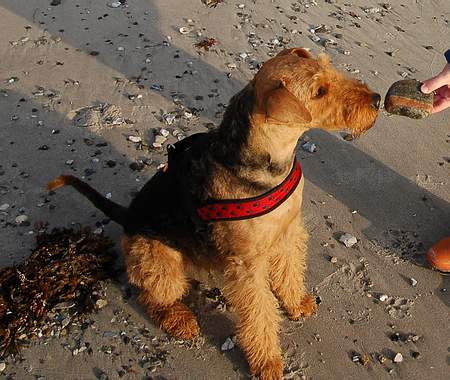 "Ja, das paßt!" - "Just right."
Und dann warfen sie auf mein Kommando das Steinchen. Leider waren sie wie immer zu bequem, es wieder einzusammeln - das übernahm dann ich, um sie bei Laune zu halten.
Then they threw the stone as per my wish. Unfortunately, they were too lazy to pick it up again – as always. I had to do the job, just to keep them happy.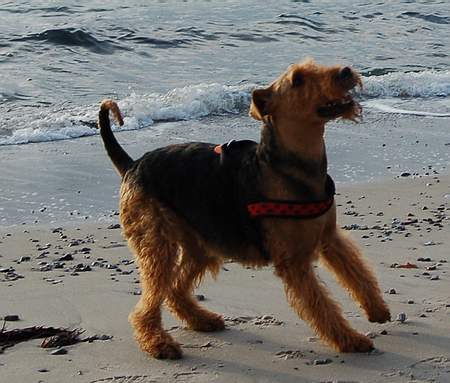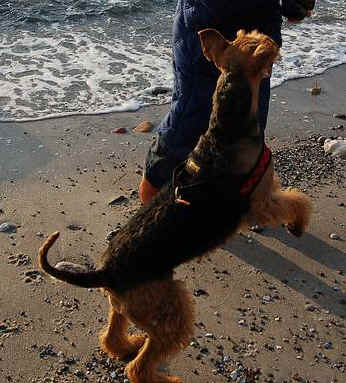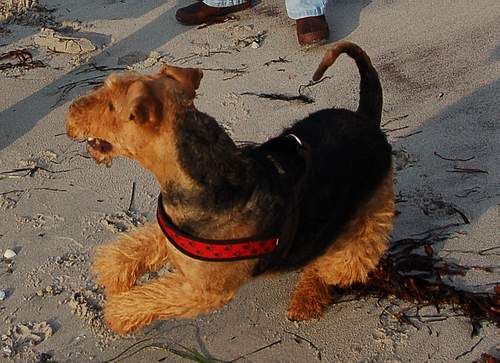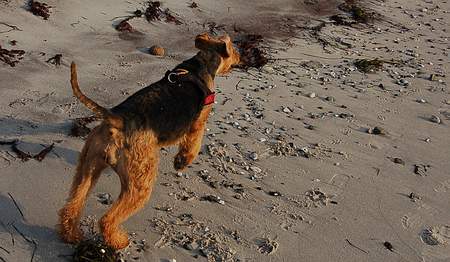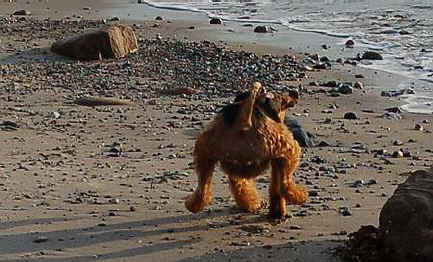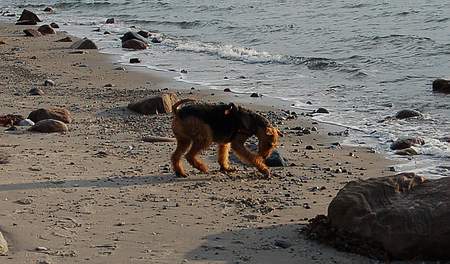 Mittags nahm ich ein erfrischendes Bad. Wie groß das Meer ist, erstaunt mich immer wieder. Großes Meer und kleiner Hund ...
At noon I took a refreshing bath. I keep on wondering how huge the sea is. Large sea and small dog ….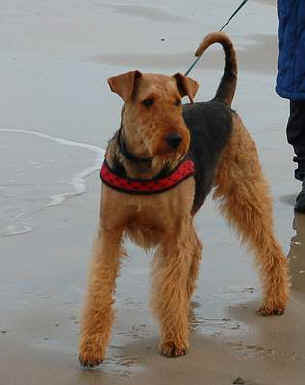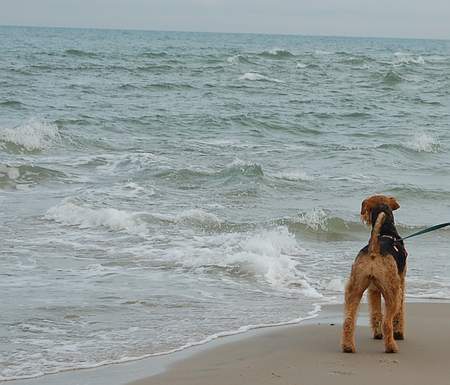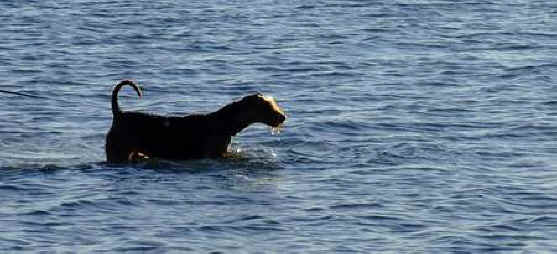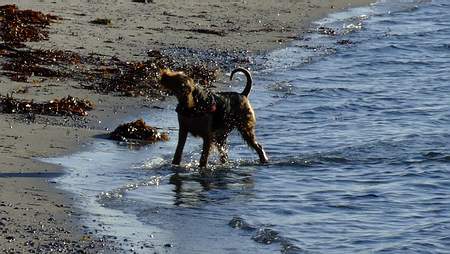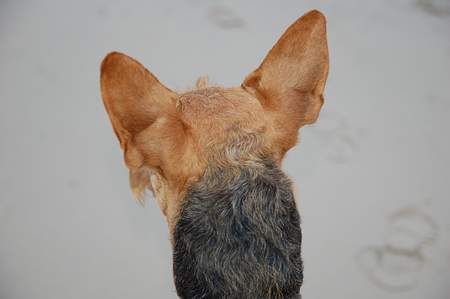 Aufkommenden Wind nutzte ich für ein wissenschaftliches Experiment: wie fühlen sich Stehohren an? Gut durchlüftet, kann ich euch sagen!
I used the rising wind for a scientific experiment: how would pricked ears be like? I can tell you: thoroughly aired!
Nachmittags sorgte ich mit dem Bällchenspiel für meine Fitness. Ich bemühte mich, bei meinen schon allseits bekannten Sprüngen eine hervorragende Figur zu machen, und ich bin mir sicher, daß es mir gelungen ist.
In the afternoon I took care of my fitness by playing with the ball. I tried to impress everybody by my everywhere well-known jumping abilities, and I am sure that I succeeded!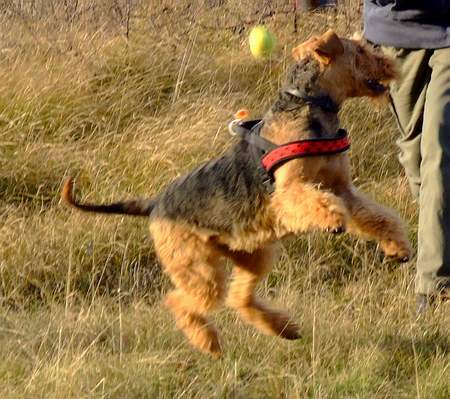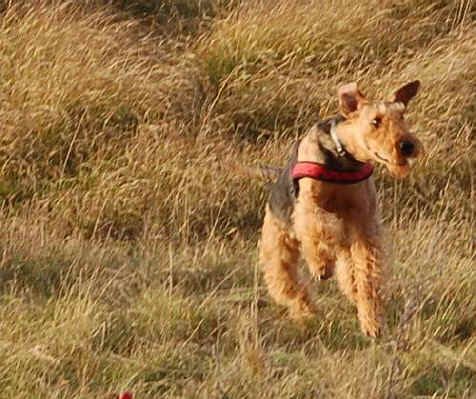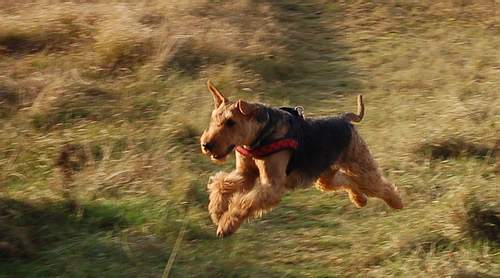 Das muß mir erst mal jemand nachmachen.
Show me someone who can do this as well.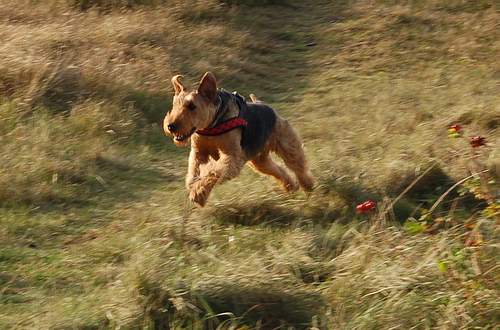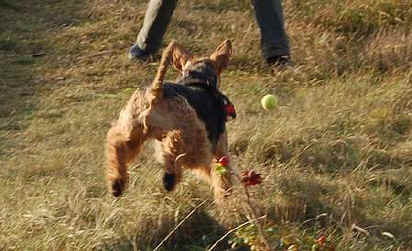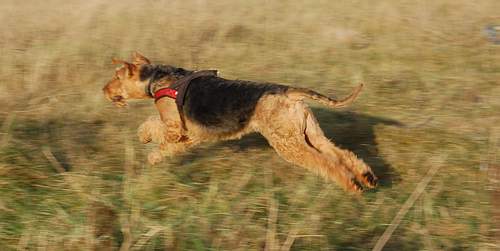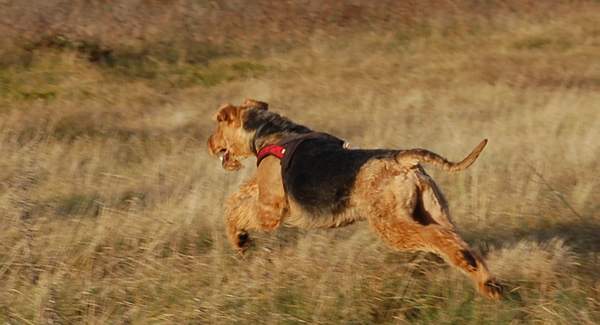 Abends machte ich es mir zunächst etwas bequem. Dann fiel mir aber ein, daß ich ja noch etwas essen könnte ...
In the evening I first made myself a bit comfortable, but then I remembered that I might want to eat something -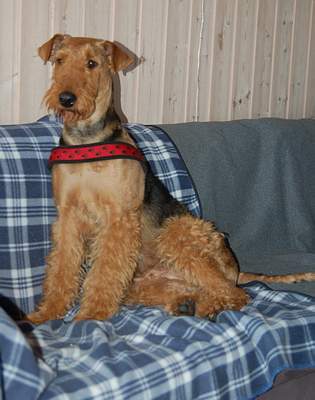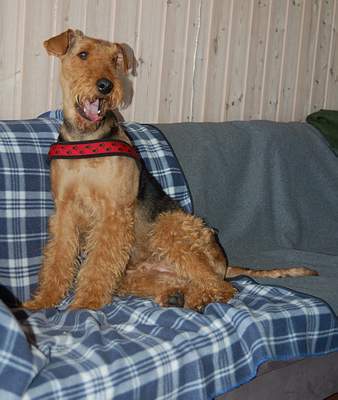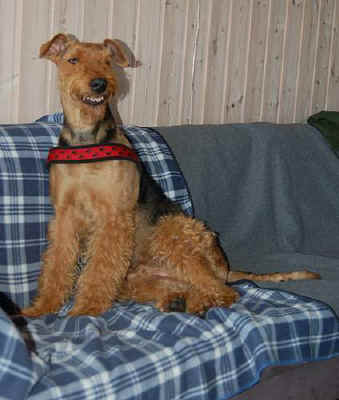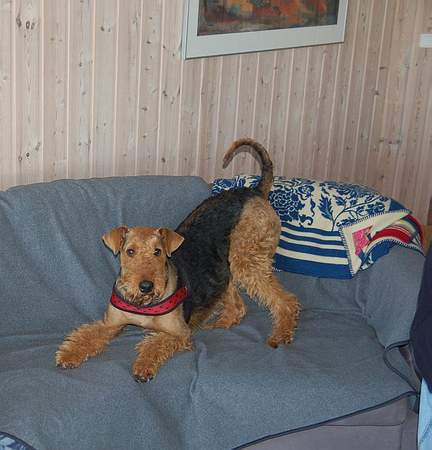 ... und das sagte ich meinen Menschen dann auf meine humorvolle Art.
……and I told my people using my very special kind of humour
Nach dem Abendessen wurde ich dann rechtschaffen müde und vom Rest des Tages weiß ich nicht mehr viel.
After dinner I was really tired, and, well, the rest of the day I can't remember very well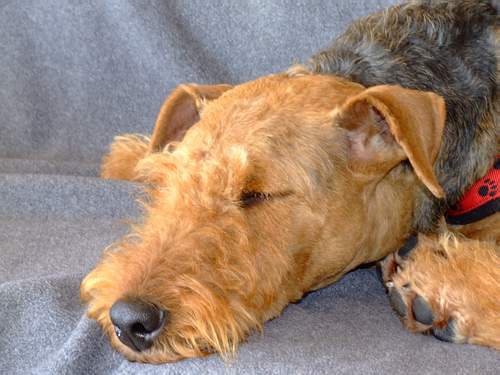 ---