Gator = Quite A Success, *6. 4. 1998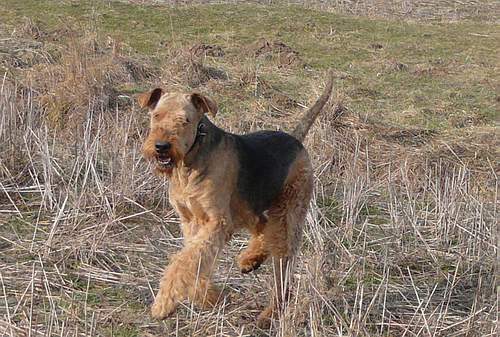 ---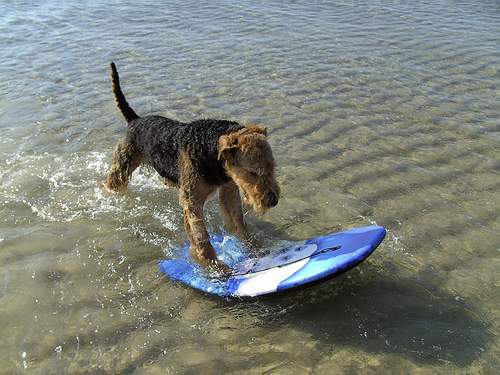 Wie war das: "fit bis ins hohe Alter" - fit into old age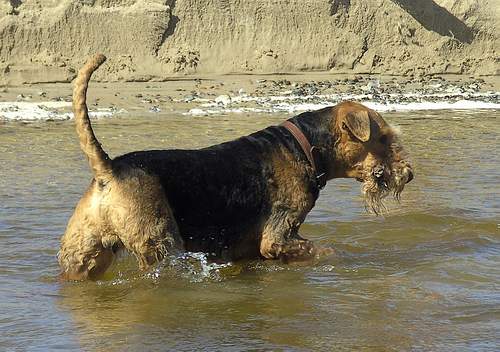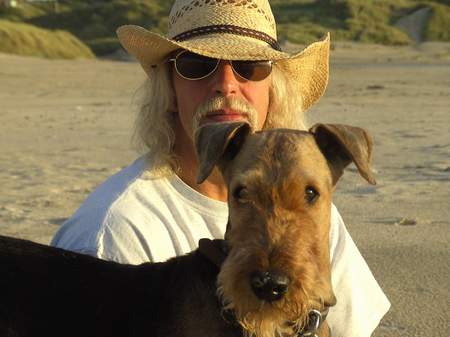 Smoke = The Earl of Smoky Mountain, *17. 7. 1998
---
Maya = Take The Best, 2. 10. 1993 - 14. 7. 2007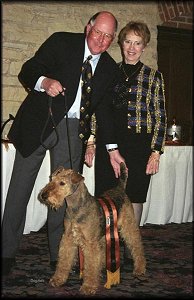 Maya, First Week of the Airedale, 2003, St. Louis, Missouri
She was in the top ten (third) out of 200 Airedales entered in the versatility competition. She was Best Dual Titled Bitch. She competed in the three Hunt Tests, (upland bird hunting, retrieving from land and water, and tracking and treeing fur). She also competed in obedience.
Hunting out west we saw a lot of buffalo - Maya loved to stare down the big bulls and then chase them away. She never met another critter that had a bigger heart or that was tougher than she.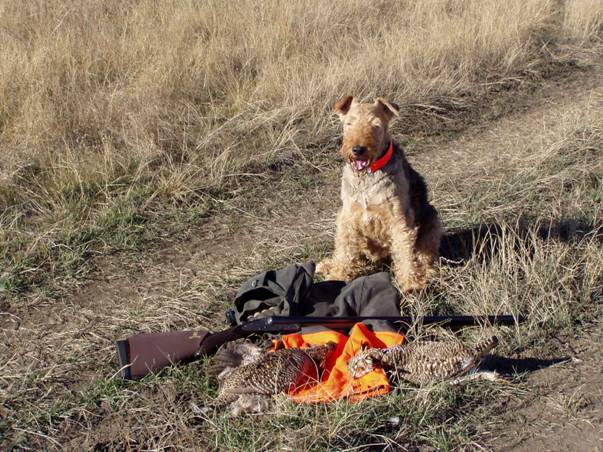 Maya with two prairie grouse that she flushed and retrieved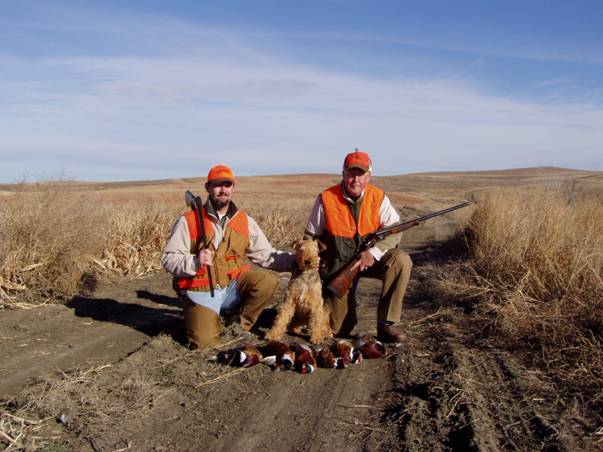 Maya with a limit of pheasants she put up for the guns near Pierre, South Dakota, about 2005
---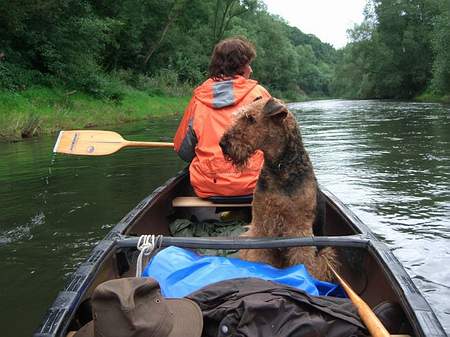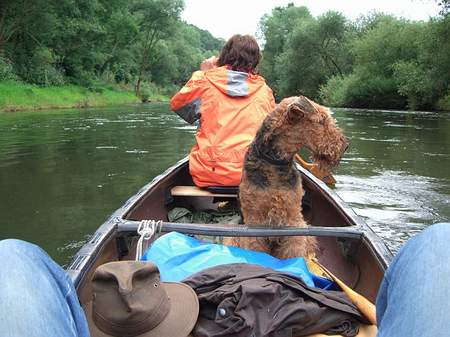 Wo ist es interessanter - rechts oder links? - Where is it more interesting, right or left?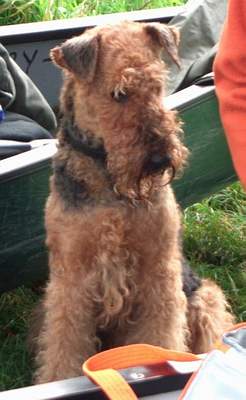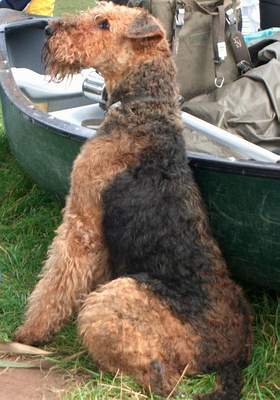 Vienna, 2008, im Alter von 8 1/2 Jahren
Vienna war die Stammhündin im Zwinger "vom Helser Born" und lebt in ihren erfolgreichen Töchtern und Enkelkindern fort.
Vienna was the foundation bitch in the kennel "vom Helser Born"
---
Teddy ( = Great Gatsby), *15. Sept. 1995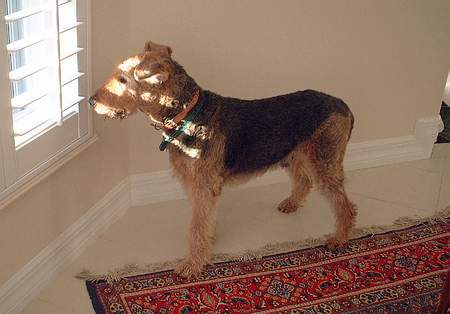 Spying on neighbours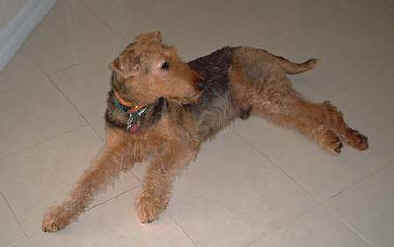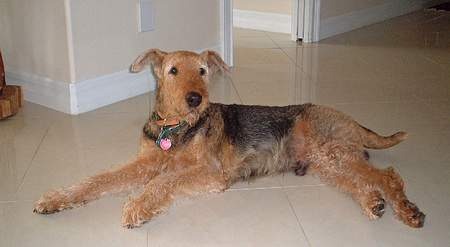 an seinem Geburtstag 2009 - 14 Jahre!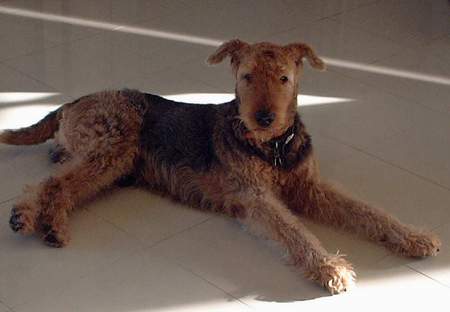 Oktober 2009
Jan 2010: resting in his favorite bed
"... There is a new life for the dog after his days in the show ring... Today Teddy turned 14 yrs 5 mos old ... He does not appear to be in pain and enjoys lying in the sun taking naps ..."
Teddy ist Amerikanischer Champion; er hatte seine großen Erfolge 1998 und 1999. Bilder aus diesen glanzvollen Zeiten hier
Look here for Teddy's show success
---
Jaska ( = Yearn to Please), gew. 21. 10. 00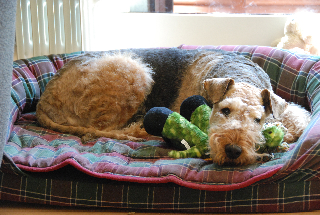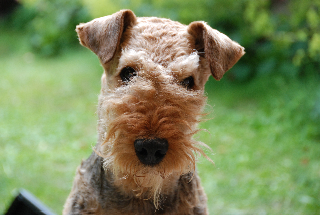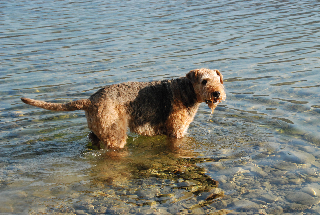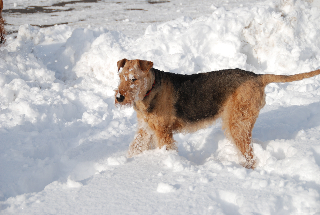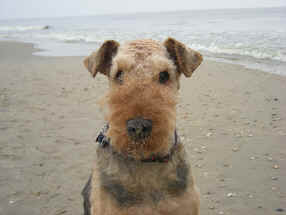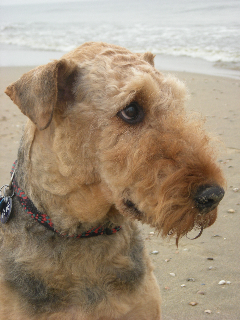 ---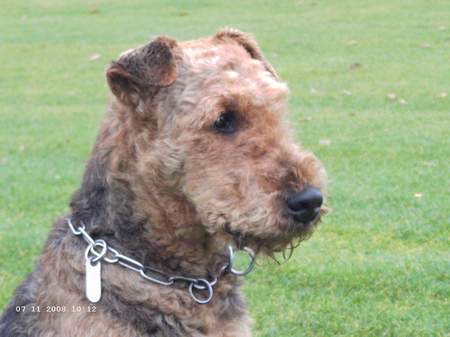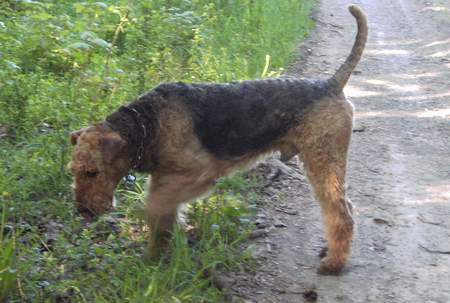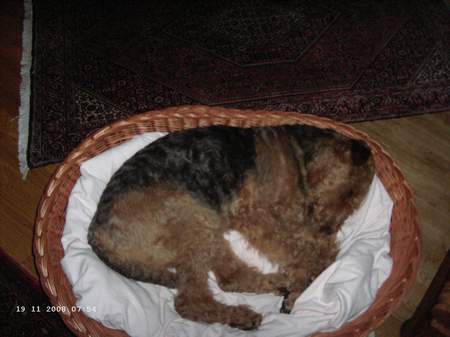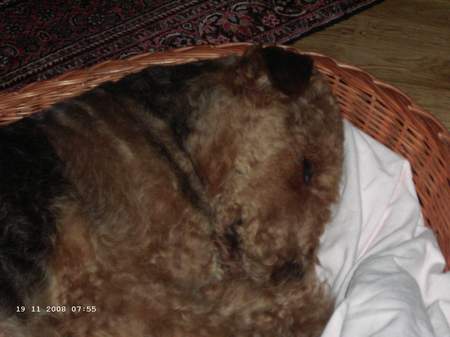 Jasper ( = Quiet Man) mit 10 Jahren, ein Bruder von Quissie und Gator
Jasper at the age of 10, a brother to Quissie and Gator
---
Yukon = Young Duke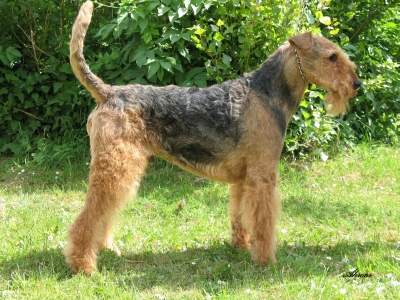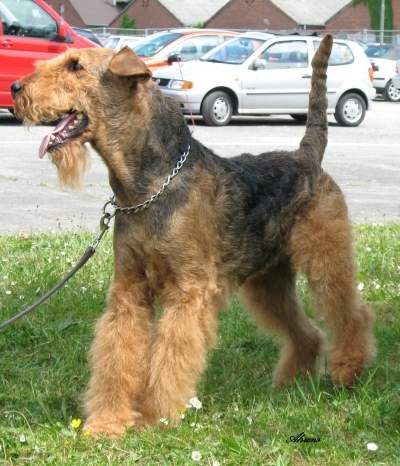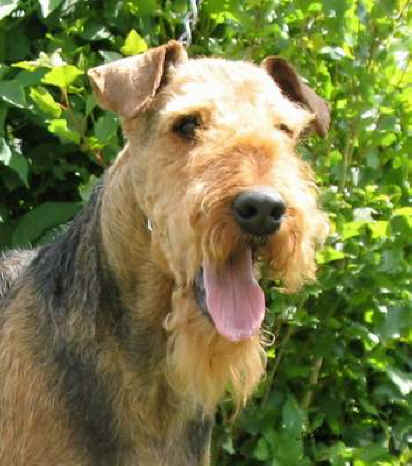 Yukon nach einer Ausstellung in der Veteranenklasse - Macho wie eh und je
Yukon gab als erster Airedale dort dem Zwinger "Young Duke's" den Namen und infizierte seine Menschen mit dem Airedale-Fieber.
The Airedale kennel "Young Duke's" was named after Young Duke von der Locher Mühle, called Yukon. Yukon infected his people with the "Airedale bug".
---
Lina (Sissy = CC = Cream of The Crop) mit 9 Jahren (gew. 13. 10. 01)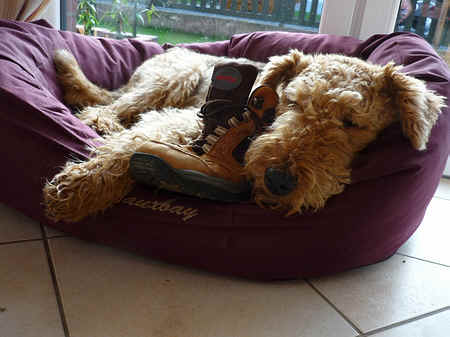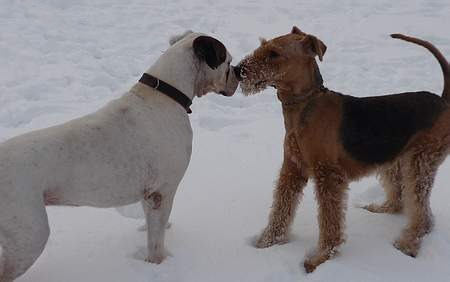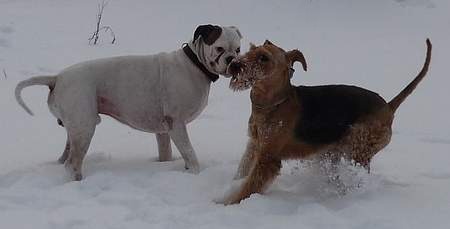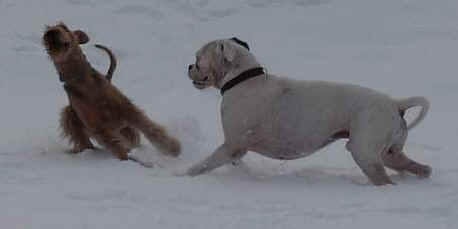 ---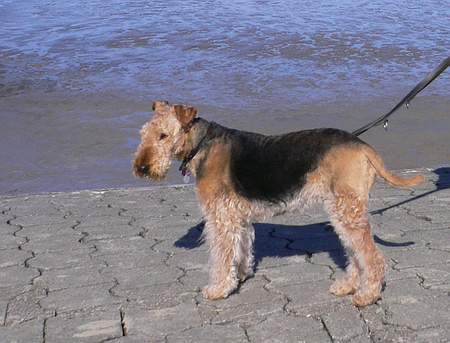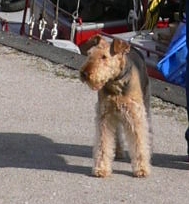 Margie = Matchless Margie mit 12 Jahren (gew. 20. 4. 97)
---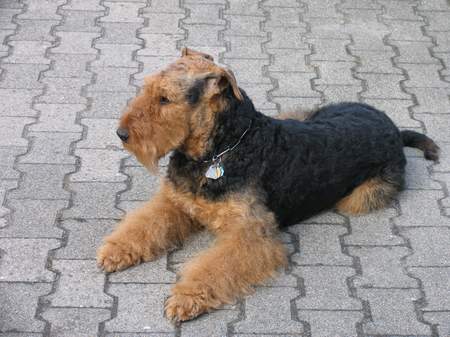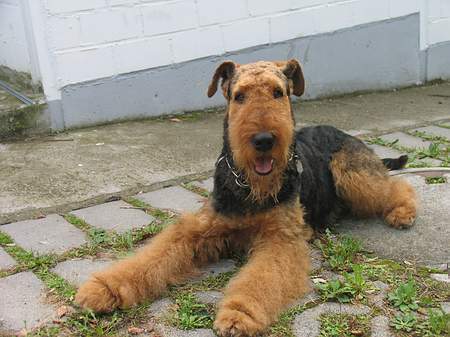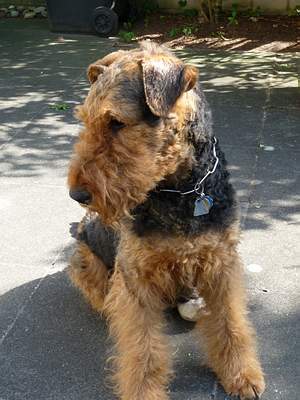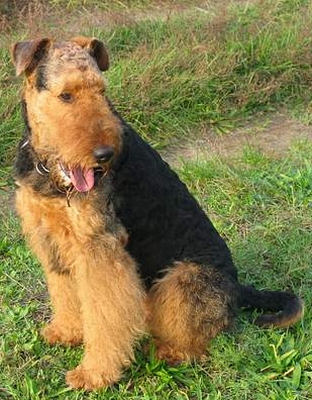 Cato = Chaos On The Rocks von der Locher Mühle, gew. 13. 10. 01, Linas/Sissys Bruder
---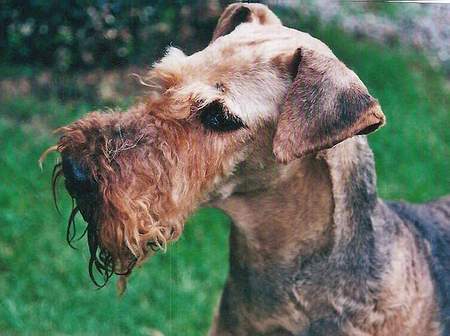 Wichita = Worth Waiting For mit 10 Jahren
---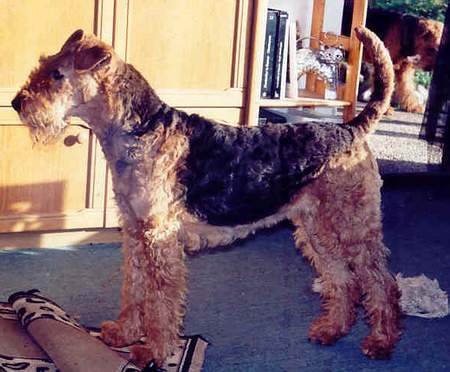 Quissie = Quite A Dream mit 8 Jahren
---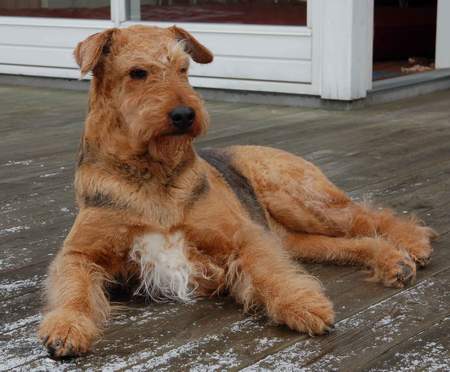 Teki = Take It Easy von der Locher Mühle mit 10 Jahren
---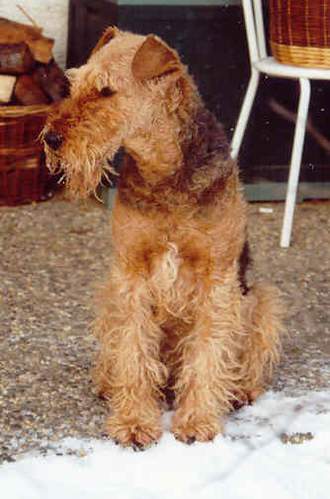 Easy - Ice On Fire von der Locher Mühle - mit 10 Jahren -
---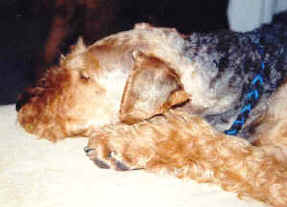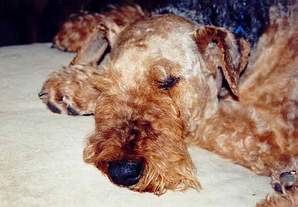 Fairy = Fair Wind - mit 12 Jahren
---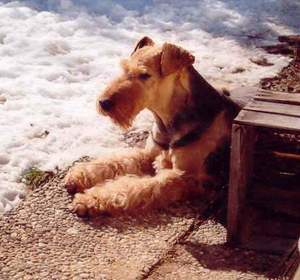 Gilly mit 11 Jahren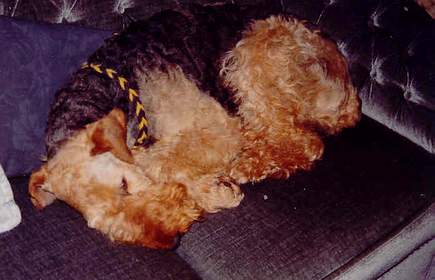 Gilly = Great Sensation
---